Aloo Tikki Chaat is a mouth-watering Indian snack made with boiled aloo (potatoes), peas, or lentils. These are mixed with a variety of spices to form the Tikki (cutlets or croquette). These cutlets are served hot with yogurt, Green Chutney, and tamarind chutney.
Tikki Chaat is one of the most popular street foods in India. From the roadside vendors to five-star hotels, all serve tikki. Different places can have different variations of this popular snack item, but the basic recipe remains the same. It is one of those foods that are a 'must-try' for tourists visiting India.
Because tikki or tikki chaat is so easy to make, it is one of the most popular snacks in my home too. Over time, I have made different versions of the tikki. The recipe given below is my favorite.
POTATOES: These are the main ingredient for making the tikkis. I have used Russet Potatoes as they are little hard in texture and great for frying. But you can also use any regular potatoes but do add cornflour or breadcrumbs in the mixture. This will bind the mixture together.
STUFFING: You can add any stuffing of your liking. I have added peas stuffing. But you can make stuffing using veggies or lentils in the tikki.
SPICES: Indian food is incomplete without spices, so have added lots of spices in the inner stuffing of the tikkis to make it spicy.
YOGURT: For Tikki Chaat yogurt is also added. Yogurt should be medium in consistency and not thick. It is usually a little sweet, so mix so the sugar in it.
TAMARIND CHUTNEY: This is sweet & sour chutney that goes great in Indian street food and one of the main ingredients for the chaat.
GREEN CHUTNEY: This is a spicy chutney that is made with cilantro and mint leaves, that also provides refreshing flavor in the chaat.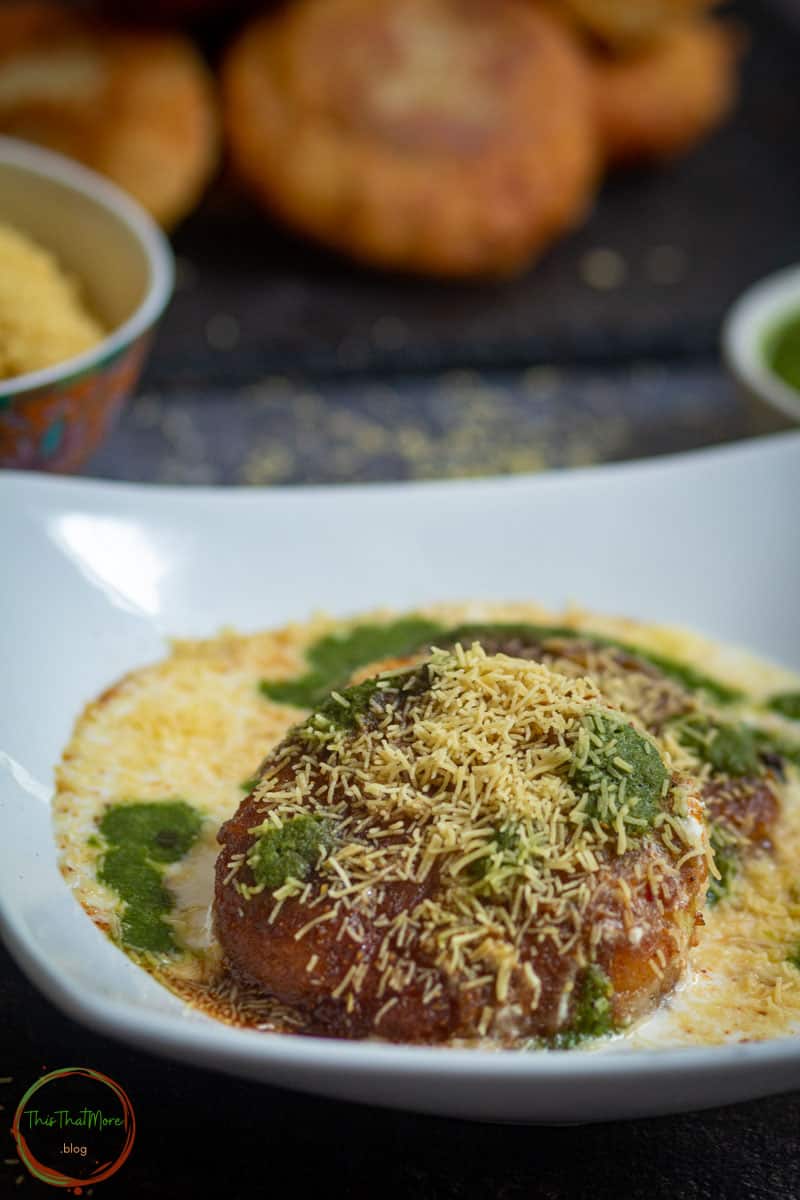 STEP-BY-STEP INSTRUCTIONS
STEP 1 - BOIL POTATOES: First and foremost step is to boil the potatoes. Depending on the potatoes you take, time might differ. But potatoes should be nicely boiled as we need to grate them later.
STEP 2 - MAKE THE STUFFING: Next step is to make the stuffing by adding veggies or lentils with potato mixture. You need a little amount of mashed potatoes just to bind the stuffing together.
STEP 3 - MAKE TIKKI: Add stuffing in mashed/grated potatoes and close the stuffing with potatoes. Then shape them into a tikki.
STEP 4 - FRY THEM: next step is to shallow-fry or deep-fry the tikki. But make sure oil is hot because, otherwise, tikkis might break when frying.
STEP 5 - ADJUST & SERVE: Next step is sprinkle some chaat masala and serve as a chaat or with some chutneys.
Potatoes need to be grated and should be free of any lumps. Best to use a grater or a potato press while making Tikki.

The outside layer of potatoes (which has only salt) makes Tikki crispier and tastier.

It's best to make the inner layer a spicier as it gives a nice overall flavor.

Frying the tikki in a mix of ghee and oil enhances its taste. I add a tablespoon of ghee with some oil for shallow- frying.

I love to sprinkle some Tikki spices along with yogurt and chutneys on hot Tikkis.

If you have made some extra tikkis, you can freeze them and eat them some days later

.
COMMONLY ASKED QUESTIONS
How to Store leftover Aloo Tikki?
You can store leftover Aloo Tikki in the refrigerator or in the freezer. You can store tikki in the refrigerator for 3-5 days. In the freezer, you can store up to 1-2 months. When re-using you re-fry or put in the oven till crispy or air-fry them.
Why does Aloo Tikki break when frying?
Aloo Tikki break mainly because of two reasons. First make sure potato mixture is hard enough and is not loose. I use russet potatoes when making tikki, as they are good for frying and has a hard texture. But when using any other potatoes just add cornflour or breadcrumbs, that way potato mixture will bind together and tikkis will not break.
The second reason may be because of oil. If the oil is not enough and you fry tikkis in it, tikki might break. Before dropping tikkis in oil, test the oil first. In hot oil drop a small piece of potato or bread, if it comes straight up then oil is at right temperature and you can fry tikkis. But if the potato takes some time to come on the top, then let the oil get more hot before you add tikkis.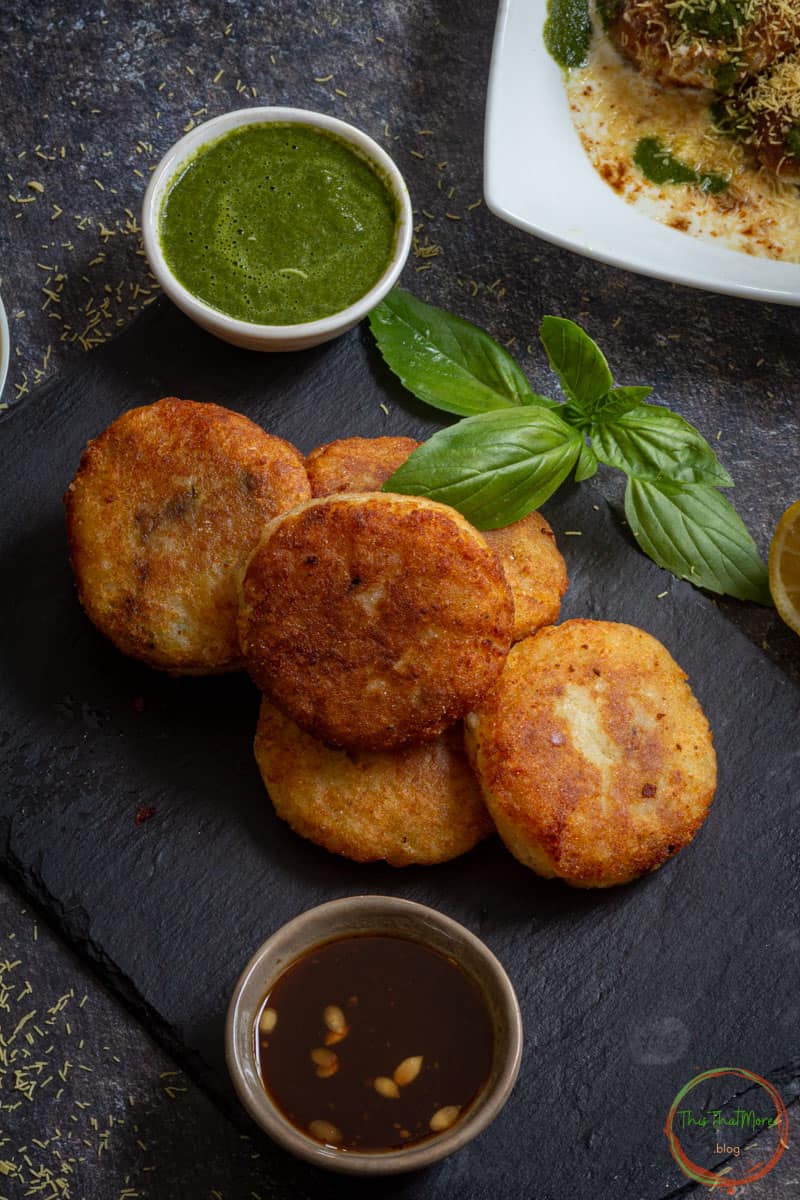 Aloo Tikki Chaat
Aaloo Tikki Chaat is a mouth-watering snack made with aaloo (potatoes), peas or lentils with a variety of spices.
Share by Email
Ingredients
Instructions
BOILING POTATO
Pour water in the inner pot of Instant Pot. Add salt to it and insert trivet. Now put the potato in it and close the lid.

Pressure cook for 8 minutes with vent in the sealing position. Let the pressure release naturally (NPR).

When valve goes down, open the lid. Take the potato out using fork or a tong.
MAKING TIKKI
Add frozen peas in a bowl and cover with water. Microwave for 1 minute. Strain the water out and let the peas cool.

When the boiled potato is cooled down, peel it. Cut ¼ of potato and put it on the side. Then using a grater, grate the remaining ¾ potato. Add salt to this grated potato and mix it evenly.

Grate the ¼ potato that we had separated and put it in a separate bowl. Add peas and all the spices (fennel powder, garam masala powder, red chili powder, roasted cumin powder, amchur/mango powder, and salt) and mix well.

Divide the plain-salted potatoes into 4-5 equal parts. Do the same with the spicy potato- peas mixture.

Take one part of potato & salt mixture and flatten in your palm using your fingers. Now, add potato and peas mixture in the center of this. Next, wrap the outer layer of the plain-salted potatoes over this spicy inner core. Roll it softly into a ball and then flatten it like patties using your palm pressure. In the same way, prepare all the tikkis.

In a medium sized skillet, add oil and ghee. Once it is hot, add all the Tikkis and fry them till they turn golden on both the sides.
TIKKI SPICES
Roast cumin seeds, fennel seeds, coriander seeds for 2 minutes or till they change color. Now grind them in the spice grinder or mortar pestle with red chili flakes. Once they are ground, add salt and mix.
MAKING CHAAT
First of all, if your yogurt is too thick, add water in it little by little till you get smooth consistency.

Add 4-5 tablespoon of Yogurt on each plate. Place 2 tikkis over this yogurt on the plate. Using a spoon, spread the tamarind chutney & green chutney evenly on the tikkis. Sprinkle some tikki spice over the Tikkis and serve.
Notes
Adding ghee to the oil for frying the tikkis gives a nice flavor to the Tikkis and makes them crispier.
Russet potatoes are best for making any fried potato dishes. Let the boiled potatoes cool down before grating them. If it's warm, sometimes it won't bind well. If using any other potato, always add 1-2 tablespoon of Corn Flour, Rice Flour or Breadcrumbs.
The outer layer of the tikki in this recipe is plain-salted. When combined with the spicier inner core, it serves a delicious contrast in taste and makes the tikki yummier.
Instead of peas, you can also use some boiled lentils in the inner core of this tikki. You can also serve these tikkis with some leftover Chole (Chickpeas). This combination is actually served in several restaurants in India. It tastes great.
You can make the inner layer of potatoes & peas very spicy as this gives a nice aromatic flavor to the Tikkis.
You can enjoy Tikkis in a chaat or just eat it with some chutneys or sauces.
If you like this recipe, Please

RATE

by clicking the Stars or leave

FEEDBACK

!
Nutrition Facts
Aloo Tikki Chaat
Amount per Serving
% Daily Value*
* Percent Daily Values are based on a 2000 calorie diet.