Butterfly Pea Flower Tea looks magical because of its beautiful blue color. And when you add a few drops of lemon to it, the color turns purple! Because of its rising popularity, I thought of making it in my Instant Pot.
I'm a tea lover and drink 1-2 cups of tea daily. But during hot weather, sometimes I don't feel like having a hot cup of tea. On such days, Iced Tea feels like an absolute pleasure. It refreshes and rejuvenates and makes the summer heat a bit easier to bear.
Butterfly Pea Flower Tea is not just beautiful, it is also easy to make. And yes you can make it on the stove, but making it in the Instant pot is so much easier. You don't have to watch for it to come to boil. You just need to add water with tea bags in Instant pot and pressure cook.
Butterfly Pea Flower has been used for centuries in most parts of Asia mostly because of the natural remedies it provides. Just like Ginger & Turmeric, it also provides many health benefits for your wellbeing.
WHY IS BUTTERFLY PEA FLOWER TEA SO DIFFERENT
It is a Herbal Tea and has a gorgeous blue color. It is also categorized as a magical drink because its color gets changed with a few drops of lemon juice. This tea is made from dried flowers of the Clitoria Ternatea plant. This is widely used in most parts of Asia particularly Thailand & Vietnam. You can use fresh as well as dried flowers to make this beautiful drink.
Color plays an important role in making this drink so popular. This is often served as a welcome drink in many spas & hotels. Also, the pea flower is used in the meals in rice as well as in some desserts too.
HOW DOES THIS ICED TEA TASTE LIKE
Butterfly Pea Flower has a beautiful color but it does not have many flavors of its own. It tastes more like a green tea instead of floral Herbal Tea. So to make it pleasant to the taste buds, I prefer adding some lemon juice and honey. Adding honey & sugar balances the flavors and makes it one of the most remarkable drinks to enjoy during Summertime.
Butterfly Pea Flower (Fresh/Dry)
HoneyLemon JuiceMint Leaves
STEP-BY-STEP INSTRUCTIONS
STEP 1: Add Water & butterfly pea flowers in the pot. Add 2 teaspoon of loosely packed pea flowers with water. Don't add too much of pea flowers, otherwise, tea will taste a little bitter.
STEP 2: Close the lid and pressure cook for 1-2 minutes. You can add or reduce the time depending on how strong you want the tea to be. I have pressure cooked for 2 minutes and it tasted great.
STEP 3: Strain the butterfly pea flowers from the tea and let the tea sit until it reaches room temperature. Or you can enjoy hot tea too but for iced tea just let the tea cool down.
STEP 4: Then transfer the tea in cups and add flavoring of your choice. I like adding some lemon juice and honey with some mint.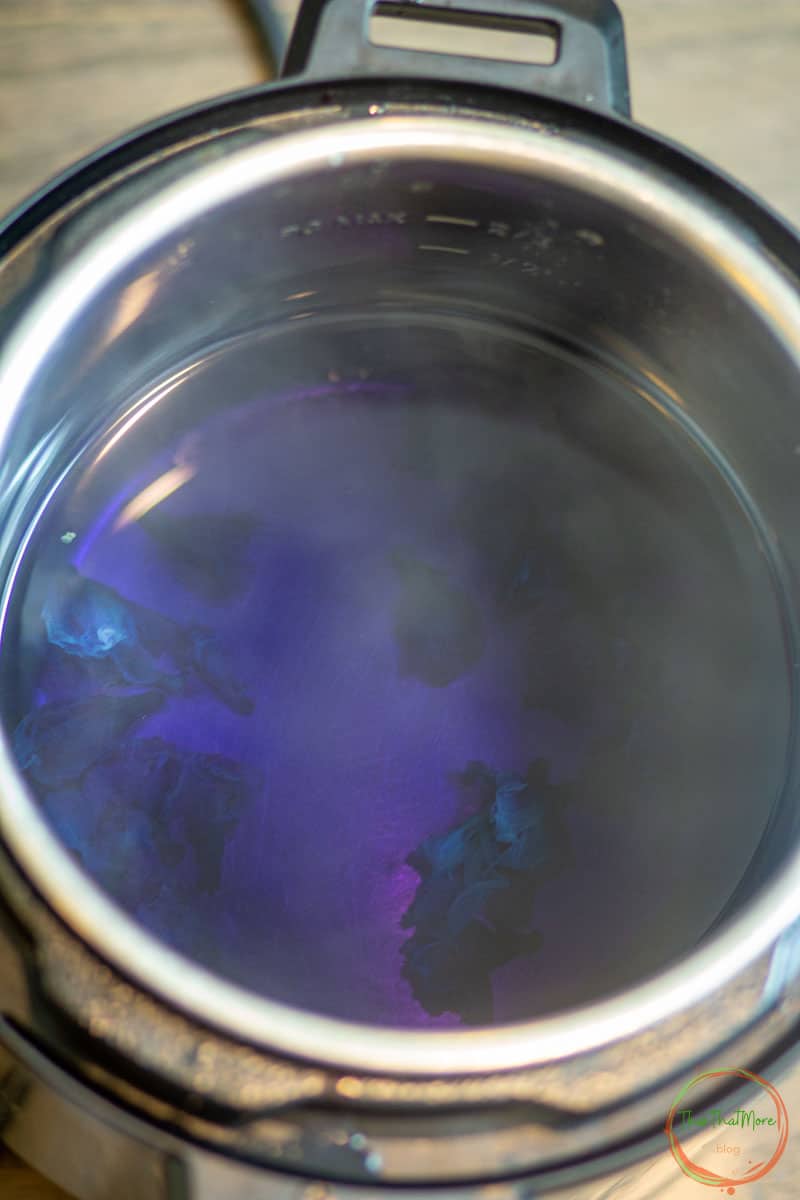 COMMONLY ASKED QUESTIONS ABOUT BUTTERFLY TEA FLOWER
Does Butterfly Tea Flower contain Caffeine?
No, Butterfly Tea Flower Tea does not contain any Caffeine, in fact, it is a herbal tea and provides lots of health benefits if taken on a daily basis. It has anti-oxidants and helps in weight loss and also promotes digestion.
Is Blue Tea Safe for You?
Butterfly Tea like any other drink is safe when taken in moderation. Excess of everything is bad so once or twice a day of this drink will be safe. As it is a little sour in flavor and when you drink with honey & lemon juice, it provides a wide variety of health benefits. It is rich in Vitamin A, Vitamin C, and has anti-oxidant property too.
Butterfly Tea Flower Tea Benefits
Butterfly tea flowers are rich in anthocyanins, that is mostly found in colorful fruits and vegetables like berries. This helps in building & restoring the skin's collagen. When this tea is mixed with honey & lemon juice, it also helps in weight loss. It also has an antioxidant called proanthocyanidin, which helps in overall eye development. Along with all these benefits, it has many more health benefits.
BUTTERFLY PEA FLOWER
Share by Email
Instructions
Add Butterfly Pea Flowers and water in the inner pot of Instant Pot. Close the lid and with the vent in the sealing position, pressure cook for 2 minutes.

When the timer beeps, NPR (natural pressure release) for 5 minutes and then Quick Release.

When the valve goes down and pressure is released, strain the tea and remove all the flowers. Let the tea cool completely and once it reaches the room temperature, transfer it in the cups.

Add honey & lemon juice with some ice cubes and stir. Add flavoring like Mint, Orange slices, or Berries in the tea and serve!
Notes
Butterfly Pea Flower Tea doesn't have much taste of its own so it's great with lemon juice and honey.
You can also add some fresh fruits like orange slices, berries, etc. Depending upon your taste & preference you can include add-in to your drink.
Butterfly Pea Flower is blue color and is often referred to as Blue Tea but when you add lemon juice its color changes to purple.
If you like this recipe, Please

RATE

by clicking the Stars or leave

FEEDBACK

!
Nutrition Facts
BUTTERFLY PEA FLOWER
Amount per Serving
% Daily Value*
* Percent Daily Values are based on a 2000 calorie diet.