Caribbean Jerk Vegetables are a perfect combination of sweet & spicy. These are easy to make on Grill or in an Air fryer. This dish is made by steaming the vegetables in an Instant Pot, then Air Frying them (after rubbing the Jerk Seasoning over the vegetables).
Jerk Seasoning is such a popular seasoning that goes great with chicken, fish, and also vegetables. Notes of allspice, cinnamon, thyme & pepper makes this rub an excellent seasoning for any type of veggies.
One of my good friends is from Jamaica and a serious cook. She used to make a really spicy jerk chicken. She always makes mango chutney along with it. The sweetness of the chutney is the perfect addition to Caribbean Jerk Vegetables. This kind of completes the whole Jerk experience for me. According to her, the secret of a perfect Jerk seasoning is the right combination of spice & sugar. And Thyme never hurts. Ideally, you get the "heat" using scotch bonnet peppers but here I am using jalapeno instead.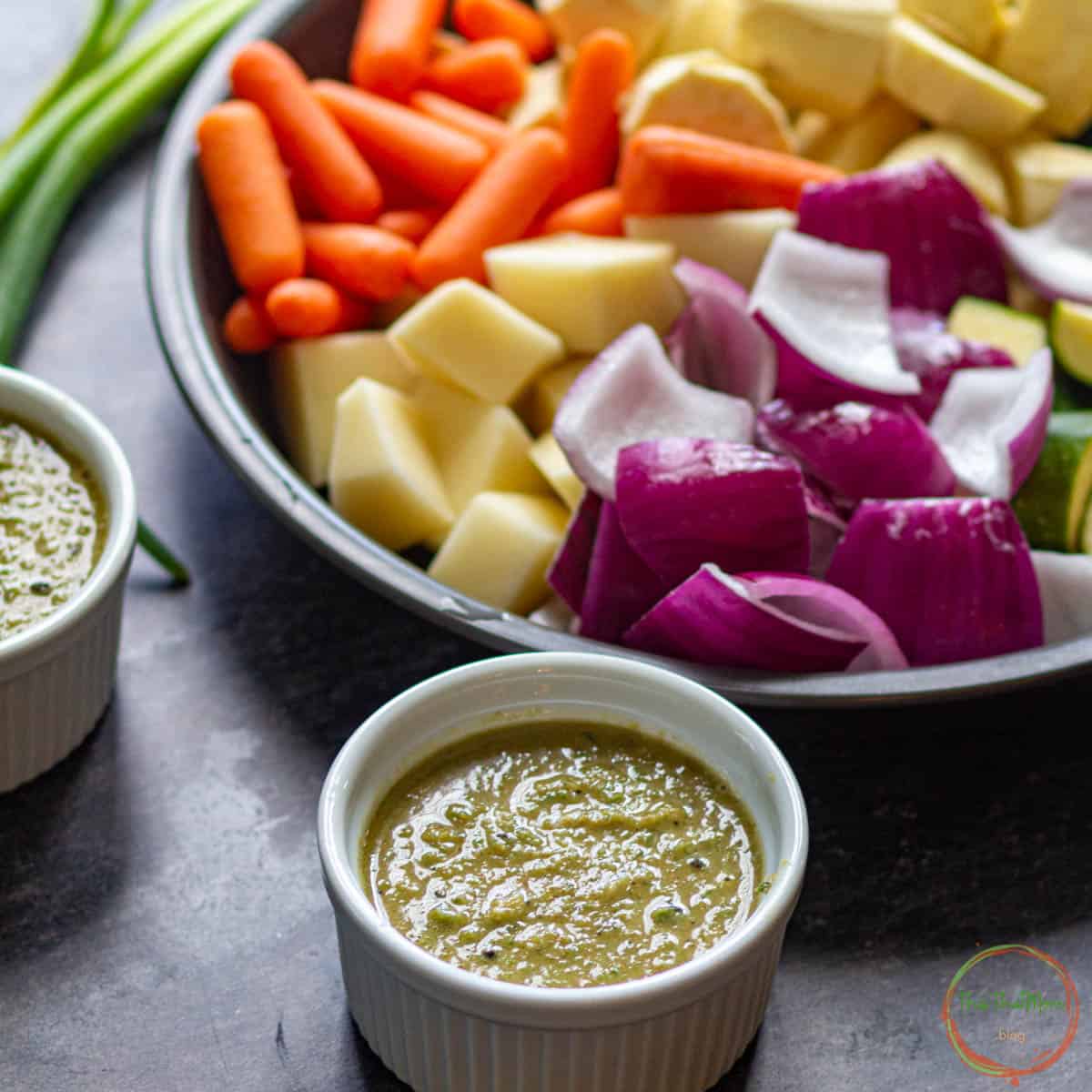 It's basically a style of cooking native to Jamaica. It can be dry-rubbed or wet marinated. I prefer the latter since it infuses all the flavors evenly. Traditionally, this was cooked in pit fires & oil barrels but now it's grilled over hardwood charcoal in a steel drum "jerk pan". It's one of the most popular street food in Jamaica and nearby islands. Although every jerk seasoning has some variation, I think six ingredients are essential for a truly authentic flavor - allspice, scotch bonnet peppers/other pepper, thyme, scallion, garlic & cinnamon. Some people do add soy sauce too.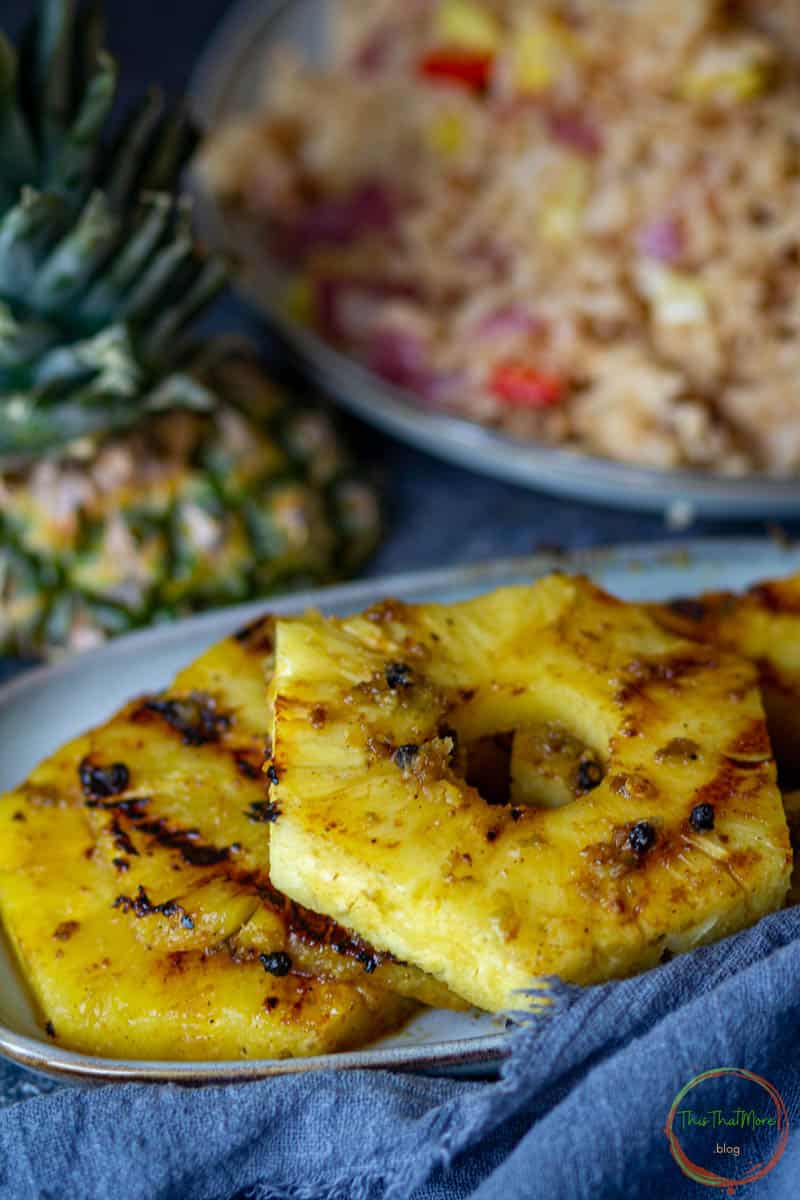 THREE STEP METHOD FOR CARIBBEAN JERK VEGETABLES
With some interesting (just to put it nicely) experiments with Instant Pot & Mealthy or an air fryer, I am settled on 3 basic steps for the veggies & Jerk seasoning.
Steam: This is basically for sweet Potato (I prefer the Asian sweet Potato that you can find in whole foods or sprouts) & Red potato. This involves using the steam function of Instant Pot for 5-10 mins for sweet & red potato.
Add the seasoning: After the steam is done, I brush the Jerk Marinate on the sweet potato & red potato. Also, add the remaining pre-seasoned veggies - Onions, red & green bell peppers, carrots, etc (Mix the marinate to other veggies and keep it in the fridge for 10-15 minutes, this will infuse the flavors)
Bake/Air Fry: After the above two-steps, bake/air-fry the veggies for 5/10/15 mins (depending upon the veggies and quantity)
This three-step method works with all veggies and different types of rub. I use Instant Pot for Step 1 & Mealthy or Ninja Foodi for step 3. I even made Pineapple using step 2 & 3, it turned out amazing (the sweetness of Pineapple with the spice of Jerk seasoning, made it perfect!)
HOW TO MAKE JERK SEASONING
Traditionally, Jerk seasoning is made by grinding the whole spices in a mortar and pestle in order to retain its natural aromatic oils & flavor. I would recommend toasting the whole spices on low heat for 1-2 mins in order to enhance their flavor before grinding them. You can get the ground spices from the store too, but for truly authentic flavors - toasting & grinding is preferred.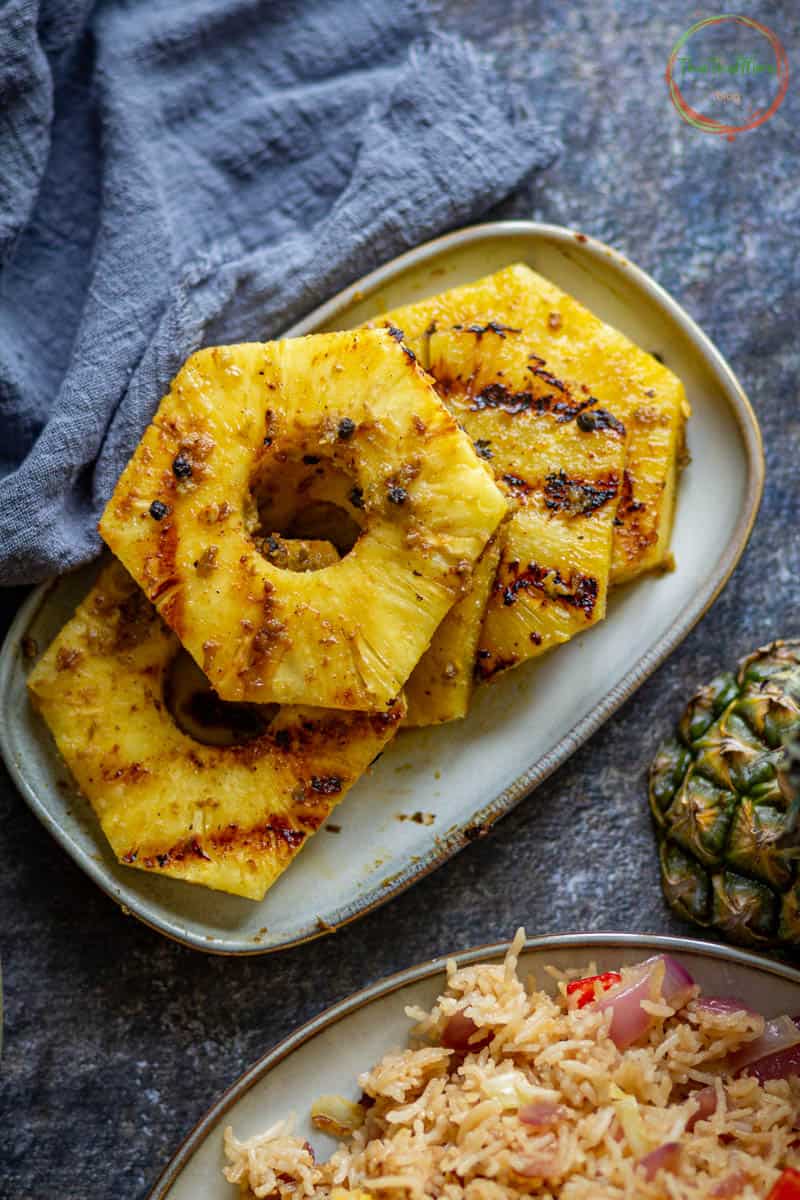 VARIATIONS OF CARIBBEAN JERK VEGETABLES
You can use Caribbean Jerk seasoning on Soya Chops, Seitan, Jackfruit, Corns, Pineapples, Reddish, Parsnips, Cassava, Brussels Sprouts, etc. The rule is to steam & Bake the veggies/fruits that are tough to cook & Bake/Air Fry only for soft ones like Pineapples & Plantains.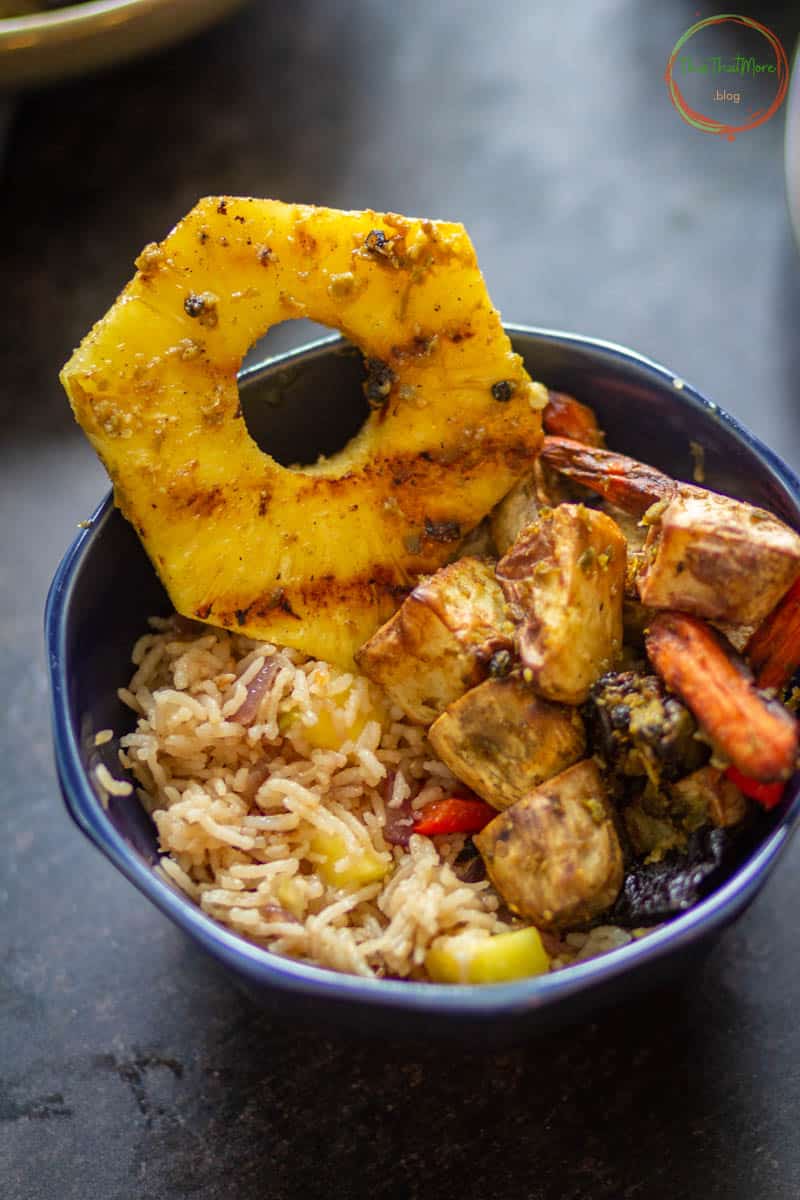 OTHER RECIPES YOU MIGHT LIKE
📖 RECIPE CARD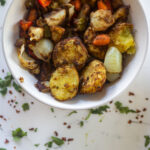 Caribbean Jerk seasoning
Carribean Jerk Vegetables are a perfect combination of sweet & spicy. These are easy to make on Grill or in an Air fryer. This dish is made by steaming the vegetables in an Instant Pot, then Air Frying them (after rubbing the Jerk Seasoning over the vegetables).
Share by Email
Ingredients
Caribbean Jerk Seasoning - makes 1 Cup
Jerk Veggies
1

Sweet Potato

Asian, peeled and cut in bite-size

1

Red Potato

peeled and cut in bite-size

1

medium Yellow Onion

cut in bite-size

½

Red Bell Pepper

quatered

¼

Green Bell Pepper

peeled and cut in bite-size

1

Pear

remove core and cut in 1 inch cubes
Instructions
CARRIBEAN JERK SEASONING:
Add Oil in the inner pot of Instant Pot/ Ninja Foodi. When oil is hot then add garlic, jalapenos & saute until garlic starts to change color. Then add allspice, cayenne, and brown sugar and cook by stirring continuously until sugar melts & mixture starts to clump together.

Add all the ingredients in food processor and blend until you get smooth consistency. Transfer in a bowl and keep aside.
STEAM VEGETABLES
Add 1 cup water & place steamer basket in Ninja Foodi/ Instant Pot. Add vegetables (sweet potato & red onion) in the steamer.

Close the lid & with vent in the sealing position, steam for 5 minutes. Once the timer beeps, let pressure release naturally. Or Quick Release after 10 minutes.
MARINATE:
When steam is released, transfer all the vegetables (raw & steamed) in a bowl. Coat them generously with Jerk Seasoning, and let it marinate for 10-15 minutes.
HOW TO ROAST:
VEGETABLES: Transfer all the vegetables in an Air-fryer basket. Air-Fry at 400°F for 10-15 minutes, or until they are cooked properly. Serve hot & enjoy!PINEAPPLE: Coat Pineapple slices with Jerk Seasoning and marinate for 10-15 minutes. Then transfer in Air-Fryer & air fry at 400°F for 5-10 minutes. Or grill them in a grilling pan and cook until charred.
Notes
Let the vegetables marinate for 15-20 minutes so that all the flavors get infused properly.
For hard vegetables (like sweet potato & red potato) it's best to steam, otherwise they won't be cooked properly.
You can grill the vegetables in an Oven or Air Fryer or Mealthy Crisplid or Ninja Foodi.
You can store leftover Jerk Seasoning in referigertaor for 3-5 days, and use on other veggies & fruits.
Nutrition Facts
Caribbean Jerk seasoning
Amount per Serving
% Daily Value*
* Percent Daily Values are based on a 2000 calorie diet.