If you're craving extra special spicy food, then Chili Garlic Noodles is the one for you. Grab a bowl and indulge in the flavor of these noodles. I have made it in an Instant Pot by first sauteing the vegetables and then cooking the noodles till Al Dante.
This is a perfect weeknight meal that can be made in under 20 minutes. You can add any vegetables to your liking and top with some crispy Tofu. The more vegetables you add, the more flavorful noodles are gonna be.
This is my favorite go-to meal, as it takes hardly any time to prepare. And when you make it in an Instant Pot, the cooking time gets even more reduced. It took me less than 30 minutes to cook and serve these noodles on the table. This includes the preparation time too.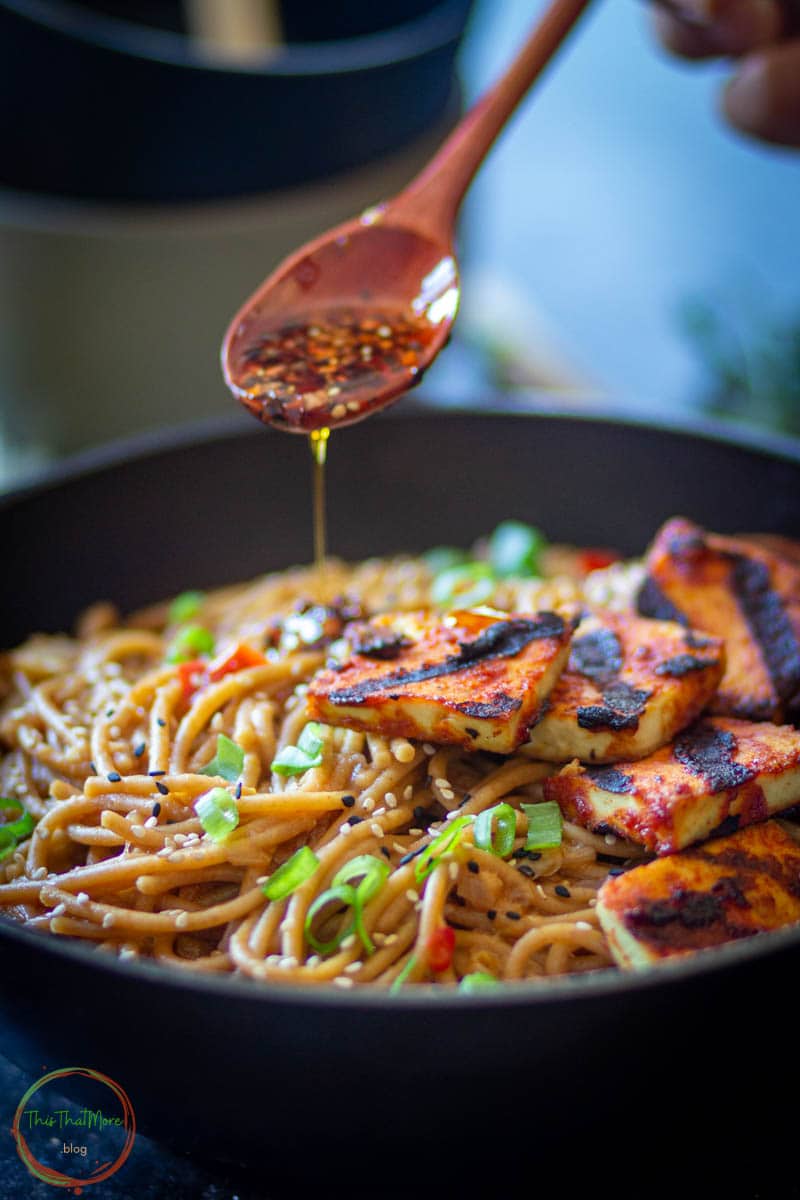 This is such a simple recipe that you can use any kind of noodles. Either it's Spaghetti, Linguine, Udon Noodles, Soba Noodles, or any other variety. They all taste good when using for Chili Garlic Noodles. For a healthier option, you can use whole wheat spaghetti, or soba noodles.
For this recipe, I have used Soba Noodles as a healthier option. I recently started including healthier ingredients in my diet and Soba noodles are one of them. They are made of buckwheat flour, or sometimes with the combination of buckwheat four and whole wheat flour too.
Soba Noodles go really great with spicy Asian Sauces. They are a bit thin when compared to Udon Noodles.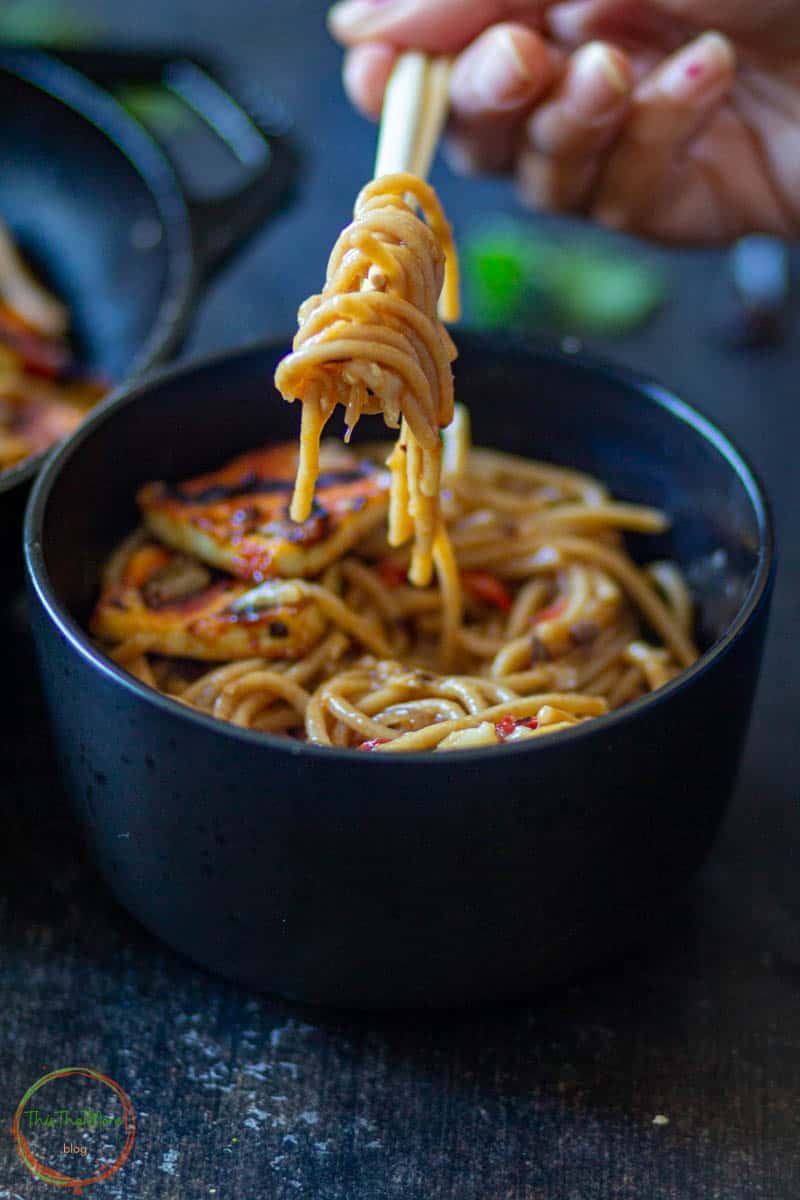 INGREDIENTS YOU NEED FOR MAKING BEST CHILI GARLIC NOODLES
NOODLES: The main ingredient is of course Noodles. As I've mentioned earlier that I have used Soba Noodles in the dish. But you can use any noodles like Udon Noodles, Soba Noodles, Linguine, or Spaghetti, etc.
SAUCES: You can add any sort of sauces that have all the aromatic flavors. But for this recipe, I have used Sriracha Sauce, Soy Sauce. But if you like to add any other sauce for the flavoring, you sure can.
GARLIC: Chili Garlic Noodles are incomplete without Garlic in it. I have added lots of garlic, around 10-12 cloves of them. But you can adjust the flavoring as per your taste.
SUGAR: A little amount of sugar could not go wrong. You can add sugar merely to balance the extreme flavors. I have added 1 teaspoon brown sugar just to adjust the flavors.
CHILI HOT OIL: Chili Hot Oil is usually a base oil for all the Chinese cooking. You can use homemade one or can also get it ready-made from the market. A teaspoon of this oil makes a huge difference in the flavor. I always add this oil to all of my Asian dishes.
VEGGIES: Noodles always taste good with thinly sliced bell peppers. I add all the different colors of the bell peppers, makes the recipe colorful. Along with bell peppers, I also add thinly sliced carrots & cabbage. You can add any veggie of your liking. Brussel Sprouts also tastes good in the noodles.
GARNISH: Garnish is the best part as they leave the impact. I like adding Scallions, Cilantro, and Sesame Seeds.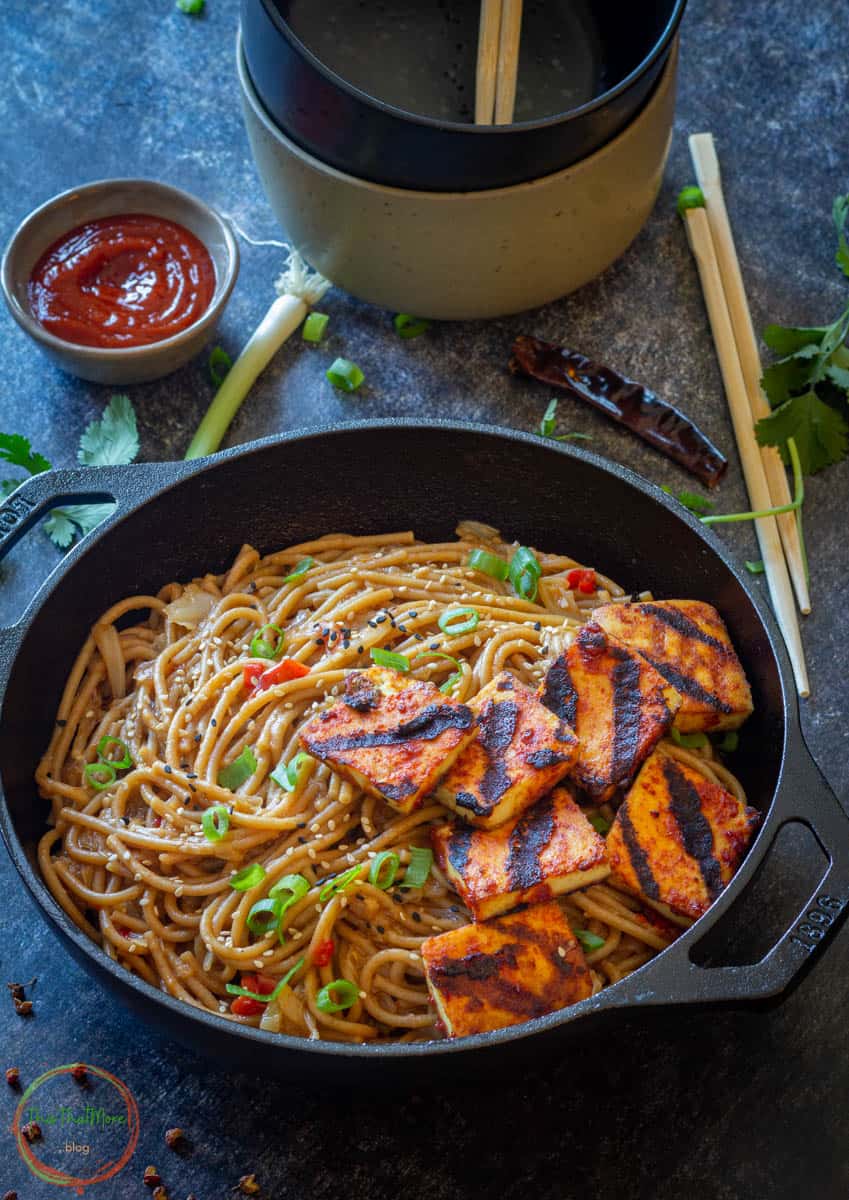 WHY COOK IN AN INSTANT POT?
The instant pot is a wonder appliance, and I try to implement all my recipes into Instant Pot ones. It not only saves cooking time but the main reason is I don't have to watch over it while it is cooking. I just put all the ingredients and pressure cook the food, while I finish my household chores.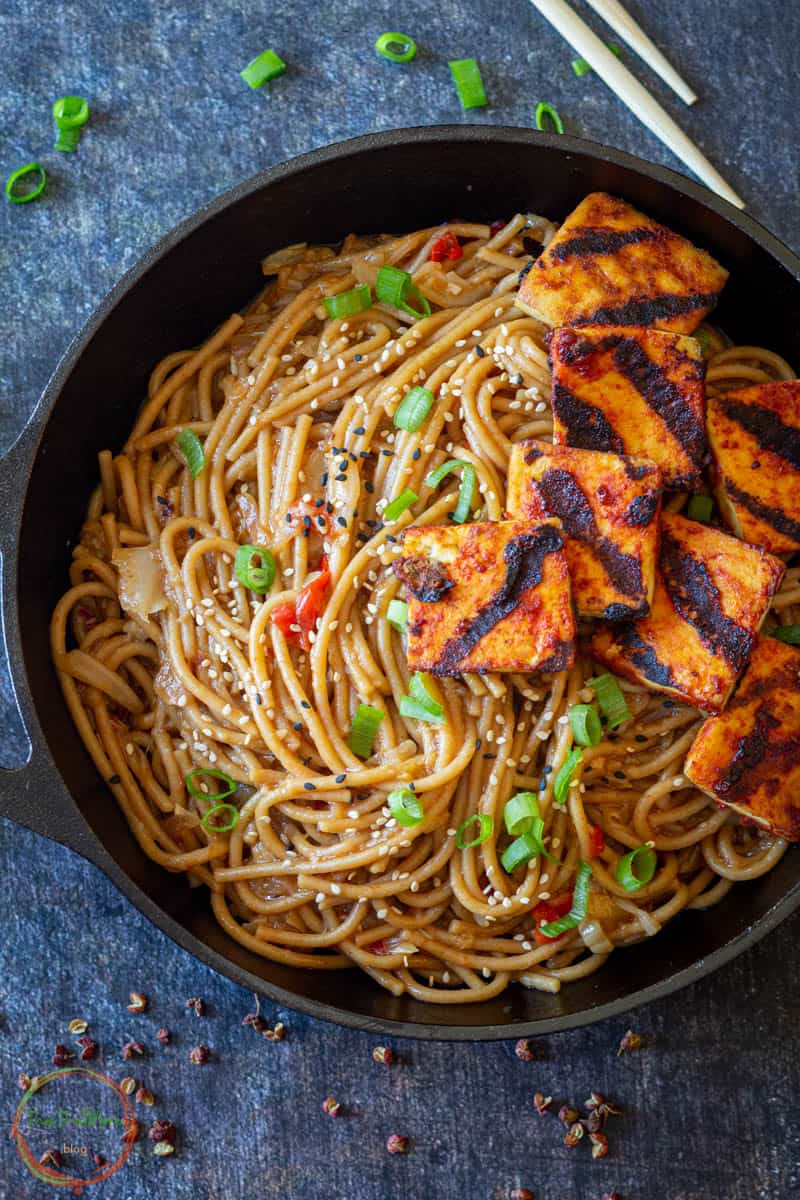 HOW TO MAKE CHILI GARLIC NOODLES
SAUTE VEGGIES: The first step is to saute veggies that you like. I usually use onion, bell peppers, cabbage & green beans in my noodles. You can use as many colored veggies that will make noodles more vibrant & colorful.
NOODLES: Next add noodles and water & mix. Top with some sauces like soy sauce, chili sauce.
PRESSURE COOK: Close the lid and pressure cook (depending on the noodles). For Spaghetti pressure cook for 4-5 minutes but if using noodles then don't pressure cook over 1 minute.
ADJUST & SERVE: Once pressure cook, open the lid with all the pressure is released by Quick Release. Adjust the seasoning and if needed add more sauce.
COMMONLY ASKED QUESTIONS
Is Chili Garlic Noodles Healthy?
Depending on the noodles you use, Chili Garlic noodles can be healthy. If you use whole wheat noodles like spaghetti or soba noodles, it can be healthy. Also with so many veggies in the recipe, it is definitely a healthier option.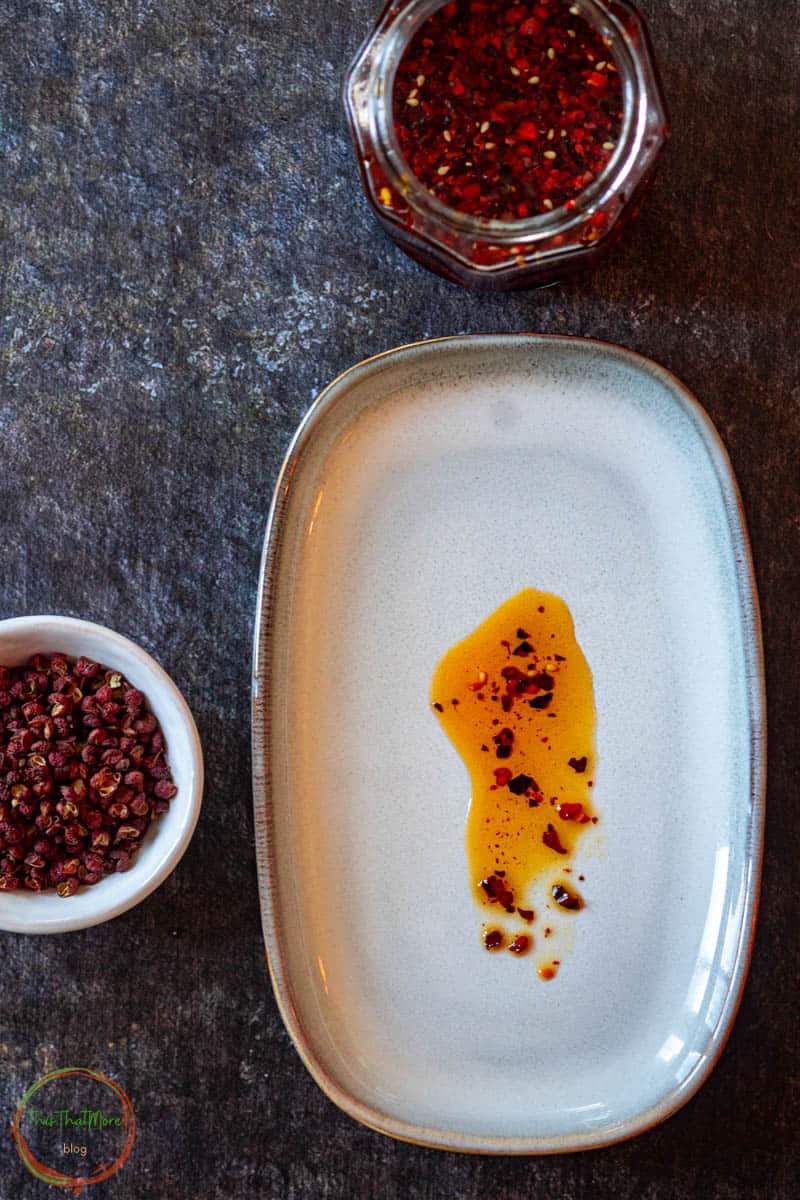 Other flavors that I can include?
I usually like to prepare Chili Garlic Noodles with some Chili Oil. Chili Oil is Chinese spiced oil that is prepared with Sichuan Chili Flakes & Peppercorns. This gives a unique flavor to the recipe & often tastes like street-style noodles. You can get a store-bought or can also use the Homemade Chili Oil.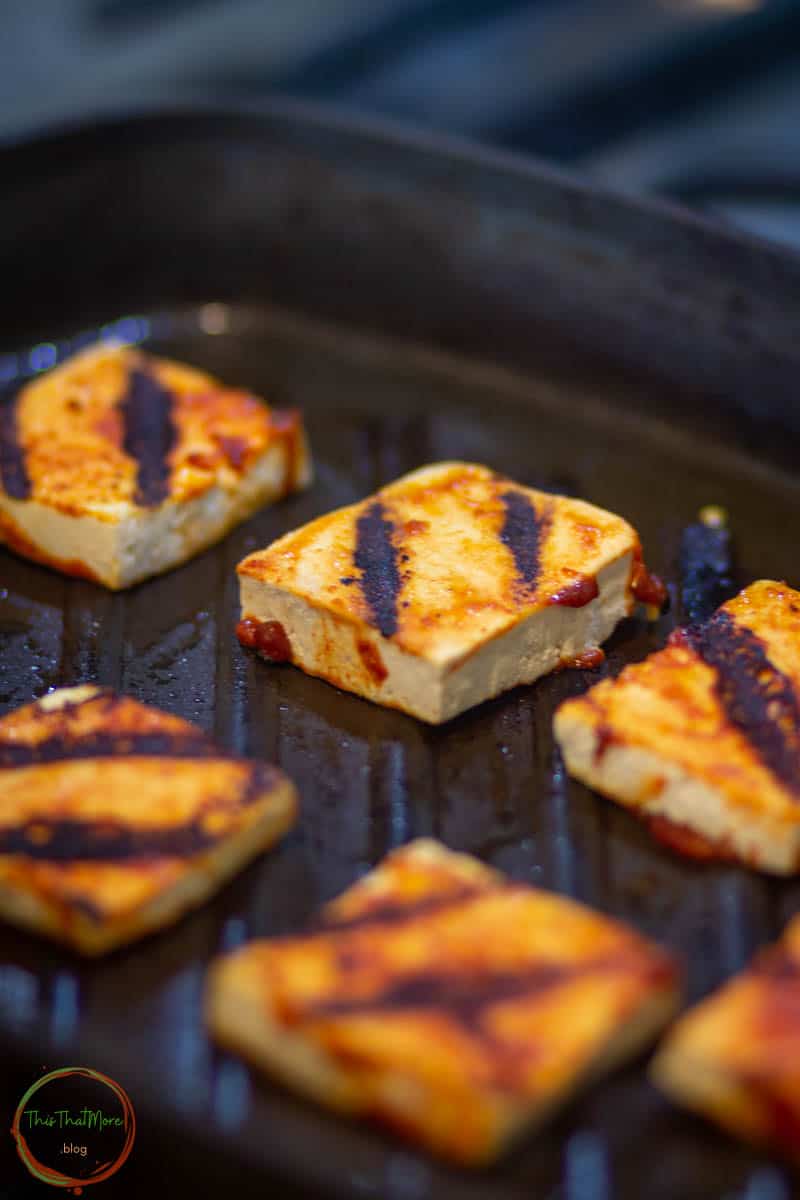 How to make Tofu to go with Chili Garlic noodles?
First press the tofu between two paper towels and put some weight in or order to remove most of the liquid from it or you can also use Tofu Press. Then add your favorite Sauce (I have added Gochujang Sauce) and marinate for 10-15 minutes. Then transfer marinated tofu to pan and grill until you get a nice charred spot or you can also air-fry at 400 degrees for 5 minutes on both sides.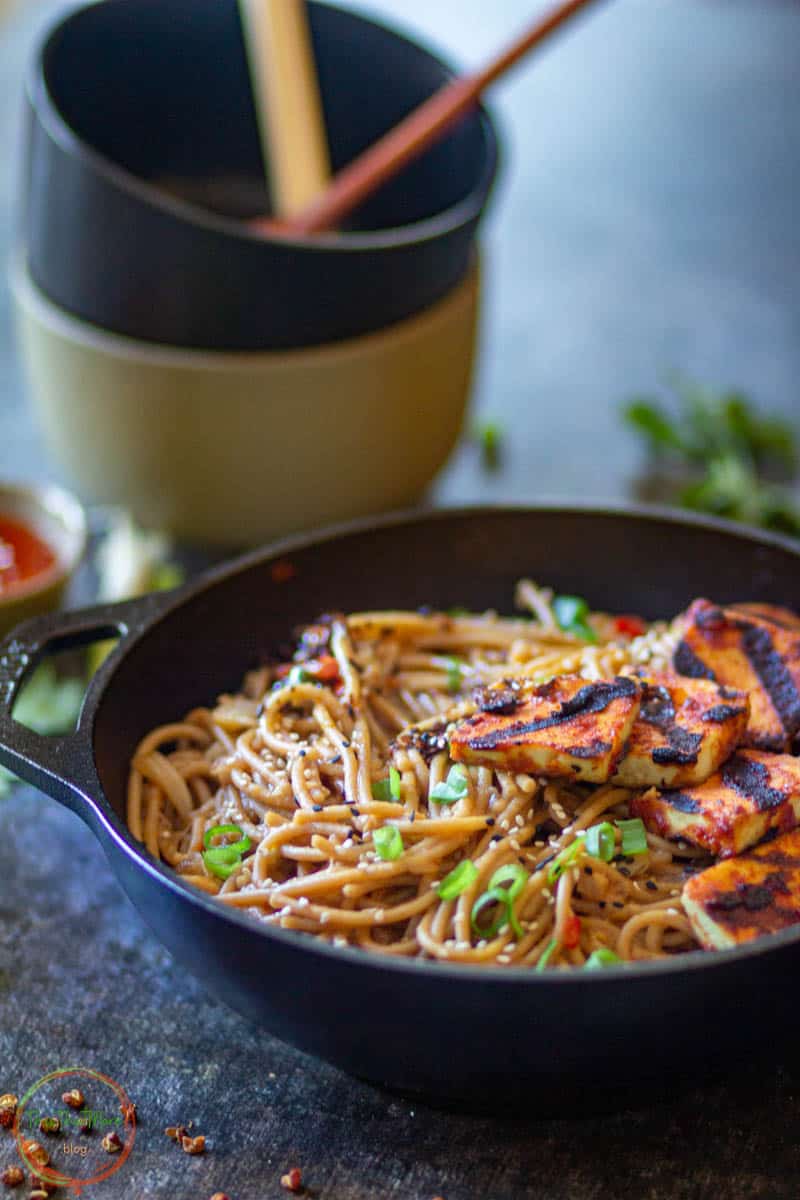 CHILI GARLIC NOODLES
If you're craving for extra special spicy food, then Chili Garlic Noodles is the one for you. Grab a bowl and indulge in the flavor of these noodles. I have made it in an Instant Pot by first sauteing the vegetables and cook noodles till Al Dante.
Share by Email
Ingredients
Vegetables:
1

Onion

sliced

1

medium Carrot

thinly sliced

1

cup

Cabbage

shredded

⅓

cup

Bell Pepper

green, red, & orange, sliced

10-12

cloves

Garlic

minced
Seasonings:
2

tablespoon

Soy Sauce

2

tablespoon

Sriracha Sauce

(or as per taste)

Salt & Pepper

1-2

tablespoon

Rice Vinegar

2-3

tablespoon

Ketchup
Garnish:
2

Green Onion

sliced, white & green parts divided

Cilantro

chopped, to top

Sesame Seeds

to top
Instructions
Press Saute in an Instant Pot and add oil (Olive Oil & Hot Chili Oil), When oil is hot, add onions & white part of Green Onions, and saute for 2-3 minutes.

When onions turn translucent, add rest of the vegetables except garlic, and saute for 1-2 minutes until a little tender. then fold in garlic with the vegetables.

Add noodles on top of the vegetables. If you cannot layer them as a whole, then break them in half and top over the vegetables. Add water and the seasonings over the noodles and close the lid.

(Note: Timer depends on the spaghetti. Check the instruction on the spaghetti bag. Divide the cooking time by half (½) and -1. Meaning, Cook Time for Spaghetti is 12. Divided by ½= 6. Then -1= 6-1=5)

With the vent in the sealing position, pressure cook for 5 minutes. When the timer beeps move the vent to the venting position, Quick Release.

Open the lid, and mix until everything is combined well. Transfer in a bowl and garnish with green onions, cilantro, and sesame seeds.
Notes
Time Adjustmen
t: Based on the instructions mentioned on the noodles packet, half the time and then take away 1. For Example- If it's mentioned cook the noodles for 8 minutes, half the time (8/2=4), then take way 1 (4-1=3)
Once timer is done, immediately tun the vent to the venting position. Don't overcook the noodles, otherwise they will turn soggy.
If you like vegetables a little tender, you can also add vegetables after timer beeps and leave it for 2-3 minutes.
You can adjust the seasonings as per your taste. I have added Soba Noodles in the recipe, but surely can add any noodles you prefer.
Nutrition Facts
CHILI GARLIC NOODLES
Amount per Serving
% Daily Value*
* Percent Daily Values are based on a 2000 calorie diet.