Hawaiian Eggs are basically stuffed Omelet layered over yummiest Spanish Rice with Cilantro-Jalapeno Salsa on the side. This is an amazing twist to the usual boring egg breakfast.
I'm not a fan of Eggs, but this recipe of Hawaiian Eggs I can eat any day of the week. It has all the flavors you need to make the dish extraordinary. Being an Indian, I like food full of masala/flavors, and this dish has those in each and every bite.
I have eaten many varieties of eggs but this recipe holds a special place in my heart. After coming back from my trip from Kauai, I tried this recipe a couple of times. And after so many trials & errors, I was able to master the recipe. If you don't want to eat egg, you can still enjoy the recipe by replacing Omelete with Vegan Crepe.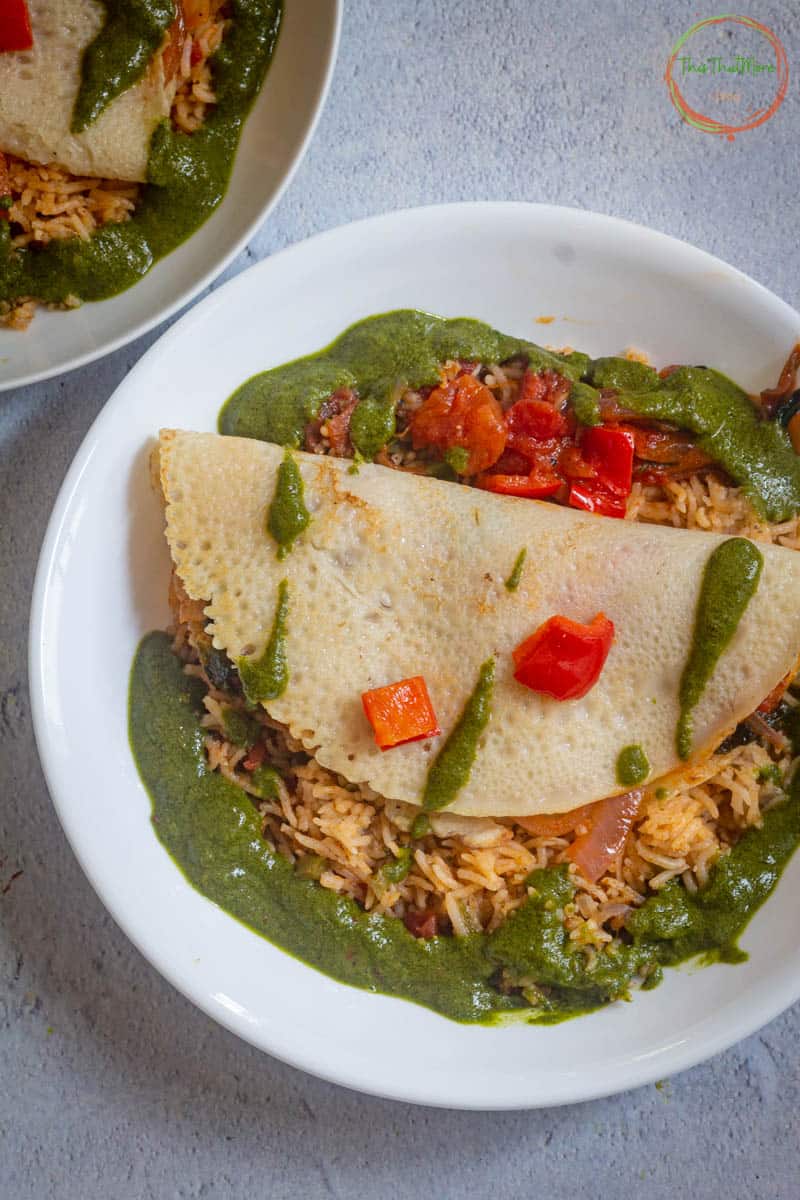 HOW I CAME TO KNOW ABOUT HAWAIIAN STUFFED OMELET
Back in 2014, we traveled to Kauai. It was my first Hawaii trip, so I was very excited. The first morning, we went for a walk along the beach and found a small restaurant in the nearby marketplace. This is where I discovered this dish and it tasted amazing! After that, it became our breakfast tradition to order this dish every day. I knew I had to try this at home. So I spoke to the chef and got a partial recipe. After some experiments, I was able to create a mostly similar dish.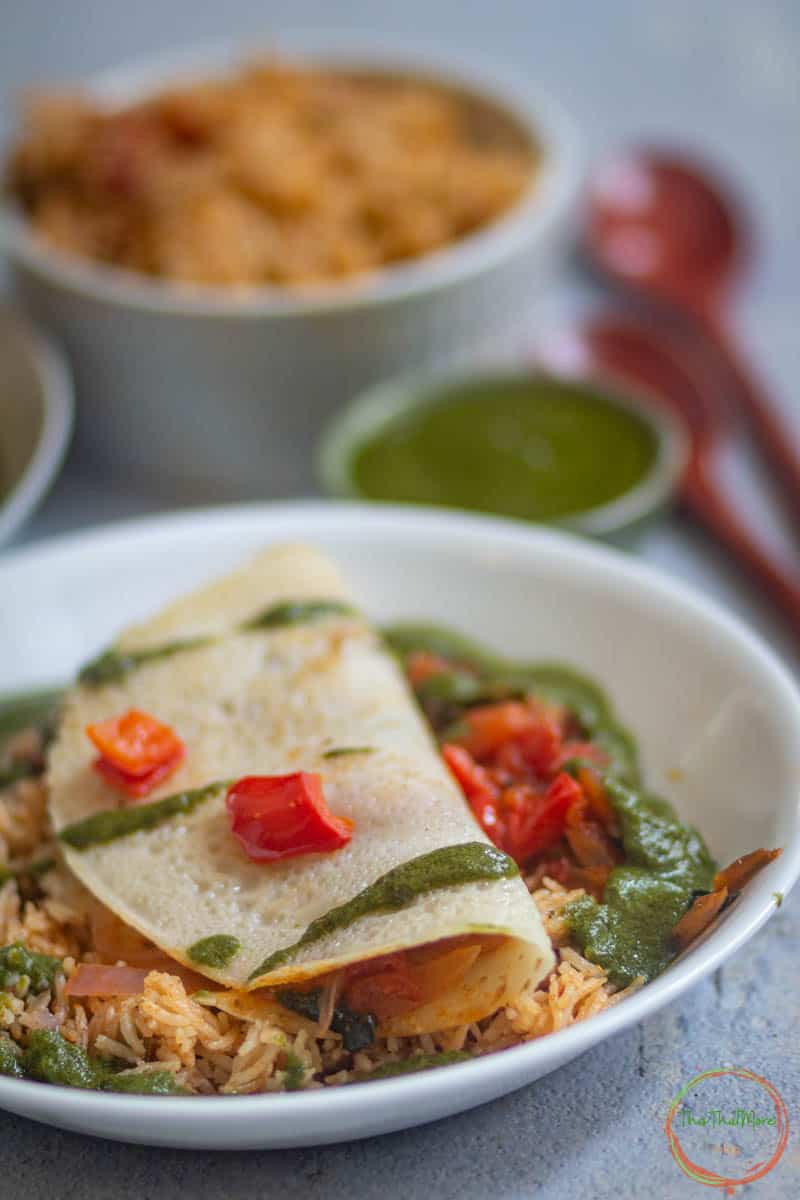 HOW TO MAKE LAYERED STUFFED OMELET
This is not a hard recipe. It's just made in three parts: Omelete, Rice, and Salsa.
Omelet - This recipe requires stuffed omelette, where you can add any number of vegetables in the stuffing in the omelet. Salsa - this recipe is served with cilantro & jalapeno salsa on the side. Rice - Spanish Rice with special Spanish flavorings along with some diced tomatoes. You can also add Black Beans with some extra layer of seasoning in the recipe.
TIPS TO REMEMBER
First you can make the sauce and let it sit until you prepare rest of the things. Just like dressing, the sauce taste gets elevated when you let it sit for few minutes. This is an amazing sauce and tastes so good that you can store in refrigerator and use it as a spread too.

In sauce you can add red chili flakes too instead of jalapeno to make it spicy.

For Spanish Rice, you make the spice-mix at home or use a store bought one. Use minimal ingredients as the main flavor comes from the omelet.

In omelet you can add any stuffing you life. I add lots of veggies in my omelet and tastes fabulous.

As it will be stuffed omelet so try to main omelet as thin as possible and simple in flavor.
Hawaiian Eggs
Hawaiian Eggs are basically stuffed Omelet layered over yummiest Spanish Rice with Cilantro-Jalapeno Salsa on the side.
Share by Email
Ingredients
Spanish Rice:
2

tablespoon

Oil

1

Cup

Water/ Broth

or as required
Cilantro- Jalapeno Sauce:
1

Bunch Cilantro

2

Jalapeno

de-seeded

¼

Cup

Olive Oil

Salt & Pepper
Instructions
Omelet:
Add eggs in a bowl after taking the peel out and add salt & pepper to it. Mix properly till everything is combined well.

Add oil and onions in a pan. Once the onion starts to change color, add bell peppers and let it cook for 1-2 minutes. Add tomatoes and once they turn mushy & oil starts to separate, add Garam Masala Powder, Red Chili Powder, and salt to it.

Add olive and spinach and cook for 1-2 minutes more till spinach is softened. Take it out in a bowl.

Take another pan and add oil 1 teaspoon of oil to it and add half of the egg mixture in the pan. Spread it evenly to get a thin omelet. When it starts turning brown from the bottom, flip it and cook another side for 1 -2 minutes. Repeat the process for all the mixture.

Divide the vegetable mixture equally and add it over one side of the omelet and close it with the other side like a crescent.
Rice:
In an Instant Pot, add oil to the pot. Using saute, cook rice for 1-2 minutes till they start to change color. Add broth and canned tomatoes to it and cancel saute.

Pressure cook for 4 minutes with a vent at the sealing position. When Timer beeps let the pressure release naturally (NPR) for 10 minutes and then Quick Release.
Cilantro- Jalapeno Sauce:
Add Cilantro, Jalapeno, Salt & pepper with olive oil in a food pressure and ground it into a smooth paste.
Layering:
For layering first, add Spanish Rice on a plate. Then layer with stuffed Omelet over the rice, and finally spread a thick layer of Cilantro- Jalapeno Sauce all around the edges of the rice.
Notes
If you don't want to use the packet of Spanish Rice, then you can also make it fresh.
For Making Fresh Spanish Rice: Add rice with diced tomatoes with onion & bell peppers with special addition of Spanish Seasonings (Cayenne Pepper, Paprika, Salt, Garlic, Parsley, and Cilantro). The mix has all the things added, we just need to add diced tomatoes/ salsa while cooking.
Tip: Before pressure cooking the rice, first fry rice in oil and when they start to change color then add water / broth for pressure cooking or boiling.
In Omelet, you can add as many vegetables you feel like or as per your taste.
Cilantro-Jalapeno Sauce: Use a thick layer of it while layering in the plate, as it gives nice flavor to the dish.
You can also add a layer of seasoned Black Beans over the rice.
If you like this recipe, Please

RATE

by clicking the Stars or leave

FEEDBACK

!
Nutrition Facts
Hawaiian Eggs
Amount per Serving
% Daily Value*
* Percent Daily Values are based on a 2000 calorie diet.