Blueberry Ice Cream is a big hit at my place. Whether we have it over a dessert or simply in a cone, we love it! It is so easy to make without even using an ice cream maker. It is made with condensed milk, whipped cream, and lots of blueberries.
Earlier, I thought of making Blueberry Frozen Yogurt, but I ended up making Blueberry Ice Cream. It is vibrant, flavorful, and a great summer recipe. I had lots of blueberries in my refrigerator so I thought it would be better to use in ice cream. I have made blueberry jam and used that as a flavoring for the ice cream.
Blueberries ice cream isn't just delicious, it also has an amazingly beautiful color. Summer is about to end so I thought to give my family one last ice cream treat for the remaining few hot summer days. Thanks to frozen blueberries, I can make Blue Berries Ice Cream any time of the year.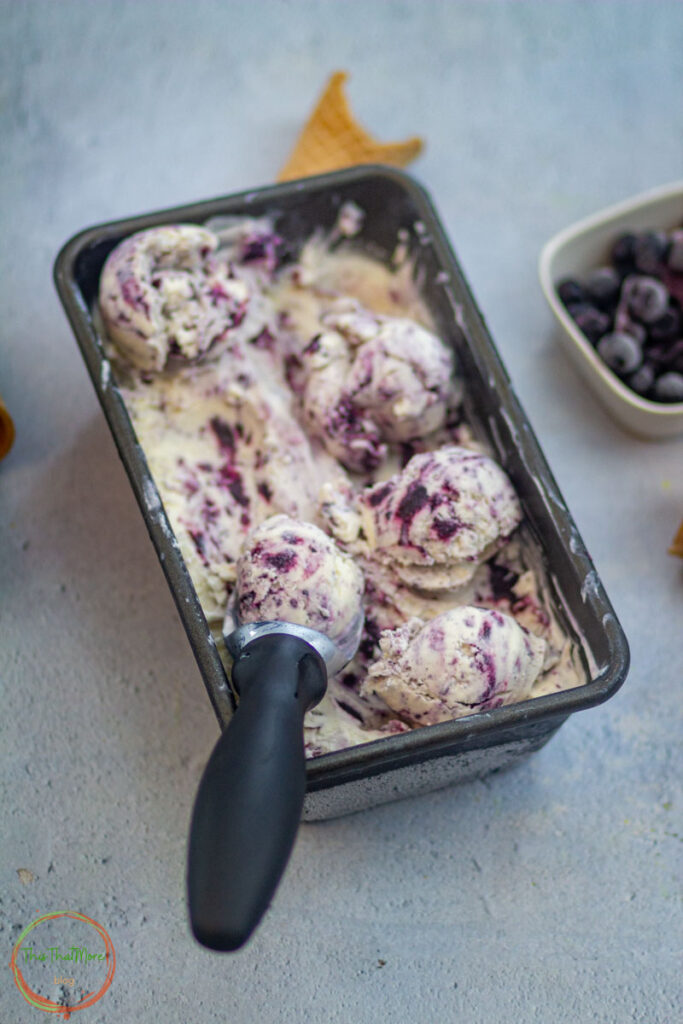 BLUEBERRY ICE CREAM INGREDIENTS
This is a no-churn blueberry ice cream and hence doesn't require a whole lot of ingredients. The base of the recipe remains the same and you can add any flavoring that you like. As there were a lot of blueberries in my refrigerator so I made Blueberry Ice Cream.
Ingredients that you need to make this colorful and creamy ice cream:
Whipped Cream

Condensed Milk

Blueberries
If you want to make Vanilla Ice Cream, you just need to add Vanilla Extract in place of Blueberries.
HOW TO MAKE BLUEBERRY JAM FOR ICE CREAM
I have made Blueberry Ice Cream using homemade Blueberry Jam. Instant Pot Blueberry Jam is easy to make, and you can enjoy it all summer long. You can use it in summer treats or use it as a spread over bread. This is no-pectin jam using only 3-ingredients and tastes so much better. All you need is blueberries, sugar, and lemon juice.
Mix blueberries in a bowl with sugar and let it rest for at least 30 minutes. Once fruit pectin is released, pressure cook. Once the pressure is released, mash it using a potato masher and saute it until most of the liquid is absorbed. Let it cool and use it in the ice cream.
BLUEBERRY ICE CREAM STEP-BY-STEP INSTRUCTIONS
STEP 1 - BLUEBERRY JAM: Make blueberry jam in Instant Pot or on the Stove-Top and use that for the flavoring in the ice cream. To check the detailed recipe of Peach Jam, CLICK HERE.
STEP 2 - WHIP THE INGREDIENTS: In a bowl, add whipped cream & condensed milk. Using a hand blender, whip them until stiff peaks form.
STEP 3 - FOLD THE JAM: Fold the jam with the rest of the ingredients. You can combine jam properly or just fold it with the rest of the ingredients (that will give a nice contrast to the ice cream).
STEP 4 - TRANSFER IN THE CONTAINER: Transfer the ice cream into a container. I use a loaf pan but any metal container will work fine. Storing in the metal container will freeze the ice cream quickly.
STEP 5 - FREEZE & SERVE: Freeze the ice cream and serve. Before serving, let it rest for 5 minutes at room temperature. Then scoop and serve.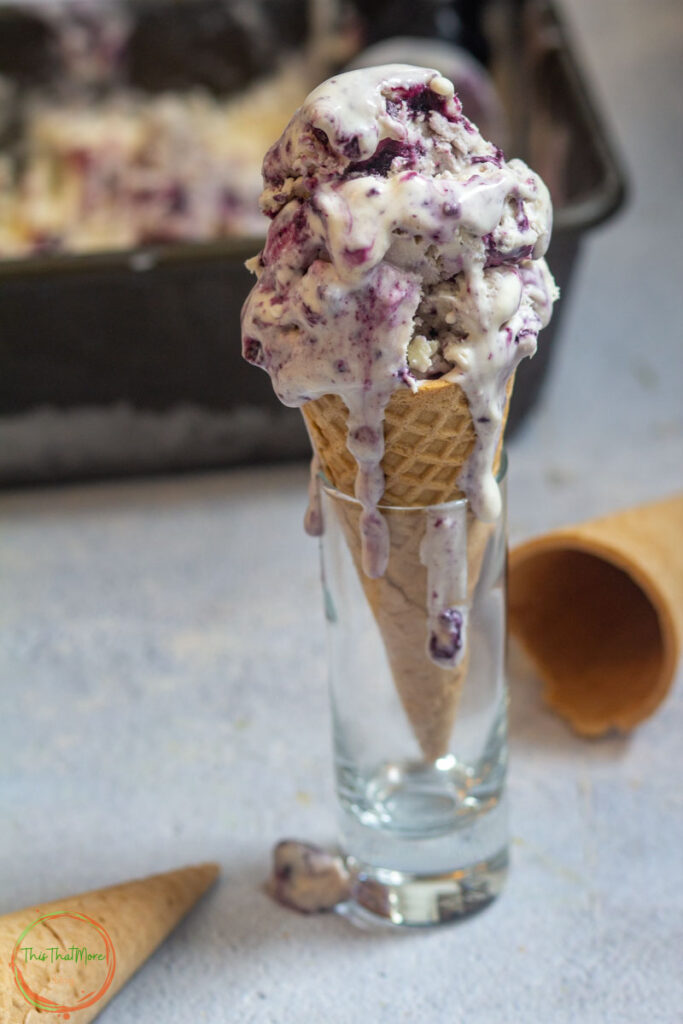 STORAGE
Before storing, cover the ice cream with a plastic lid or clique wrap or aluminum foil so that it remains fresh and free of odors. I usually cover with plastic wrap before covering with a lid, this prevents forming of any ice crystals.
Store in a flat container like a loaf pan instead of a deep pan. It will help in freezing the ice cream evenly. Also, store at the back of the freezer, which helps in maintaining the uniform temperature.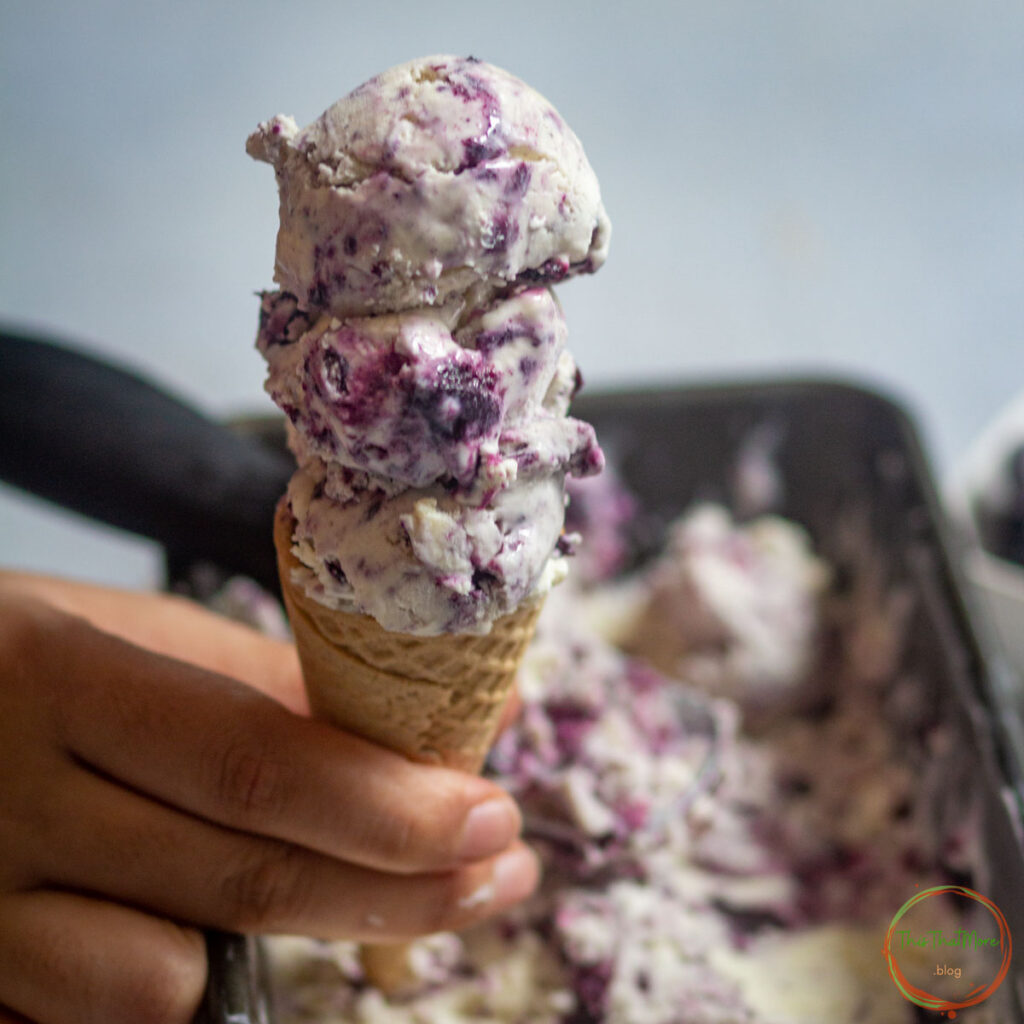 No-Churn Blueberry Ice Cream
Share by Email
Instructions
How to make Blueberry Jam:
Instant Pot: Add blueberries in the Instant Pot and mix sugar & lemon juice with it. Close lid and pressure cook for 2 minutes. Once the timer beeps, let the pressure release naturally (NPR). Once the pressure is released, open the lid. Using a potato masher or immersion blender mash the blueberries. Press Saute and let it cook for 10 minutes until most of the liquid is absorbed. (Note: Jam will get thick once it cools down, so keep that in your mind).Stove-Top: In a saucepan, add blueberries and mix sugar & lemon juice with it. Cover with lid and start cooking at medium heat. After 5-10 minutes blueberries will start to break and all the juices will comes out. Then lower the heat and keep cooking until most of the liquid is absorbed. (Note: Jam will get thick once it cools down, so keep that in your mind).

Transfer in the jar and let it cool to room temperature. And later store in the refrigerator and use in yogurt, or over slice of bread, etc.
How to make Blueberry Ice Cream:
Whisk Condensed Milk and Salt together in a bowl until they are combined.

In another bowl whisk heavy cream using hand blender at medium speed until firm peaks form. It will take around 2 minutes.

Fold in the whipped cream with condensed milk using a spatula until well combined. Then pour it in the chilled loaf pan and drizzle jam on the top. Using a spatula, lightly spread it like a swirl.

Cover with a plastic wrap and freeze in the freezer for 2 hours for a soft-freeze. Or freeze for 3 hours for a solid but scoopable ice cream.
Notes
If you like this recipe, Please

RATE

by clicking the Stars or leave

FEEDBACK

!
Nutrition Facts
No-Churn Blueberry Ice Cream
Amount per Serving
% Daily Value*
* Percent Daily Values are based on a 2000 calorie diet.