Focaccia Bread is easy to make recipe of yeast bread. It is crispy from the outside and has a softer inner texture. This is a quick knead bread that you can pouff within 1 hour in an Instant Pot. This is one bread you can't get bored with as you can add different flavoring & topping to it.
I always enjoy eating Focaccia bread during the holiday season. The best thing about it is that you can change its flavor as per your taste. Sometimes I make it with Jalapeno, sometimes I like Garlic & Herbs, and sometimes I prefer Lemon & Sage ones.
Focaccia Bread is so amazingly flavorful that I love eating it with soup or stew. It also goes great with some seasoned Olive Oil. I also sometimes like to add some thinly sliced tomatoes, lemons too in the recipe.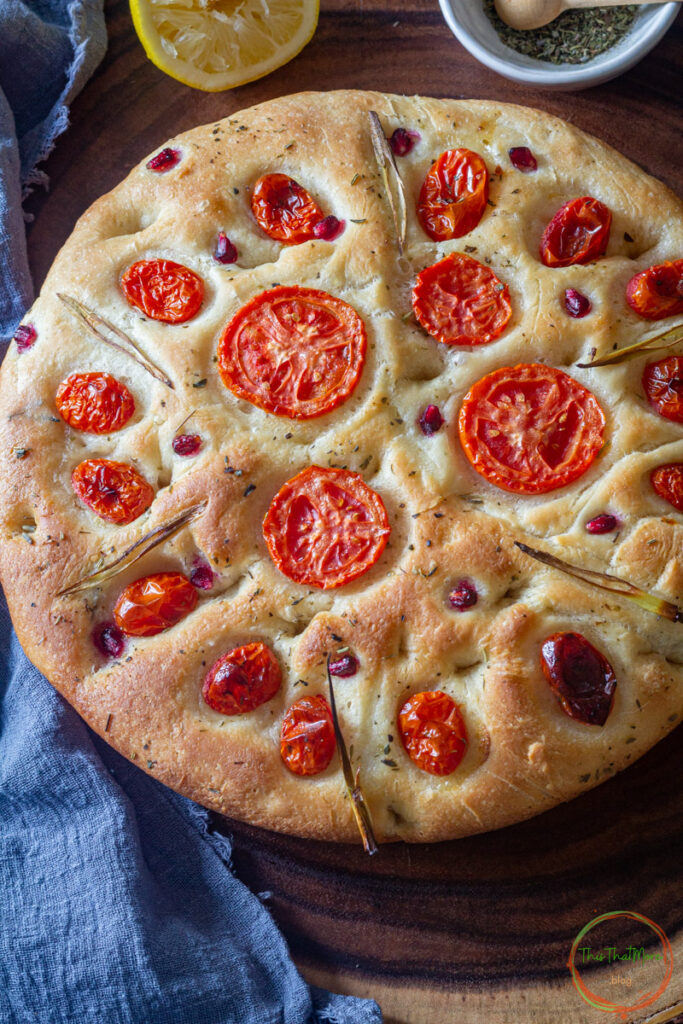 Focaccia is a flat oven-baked Italian bread, popularly know as flatbread and similar in style and texture to pizza dough.
I use Focaccia as a side dish to many meals or as sandwich bread. It usually serves as an antipasto, snack, appetizer, or table bread. It can be prepared savory or sweet in taste.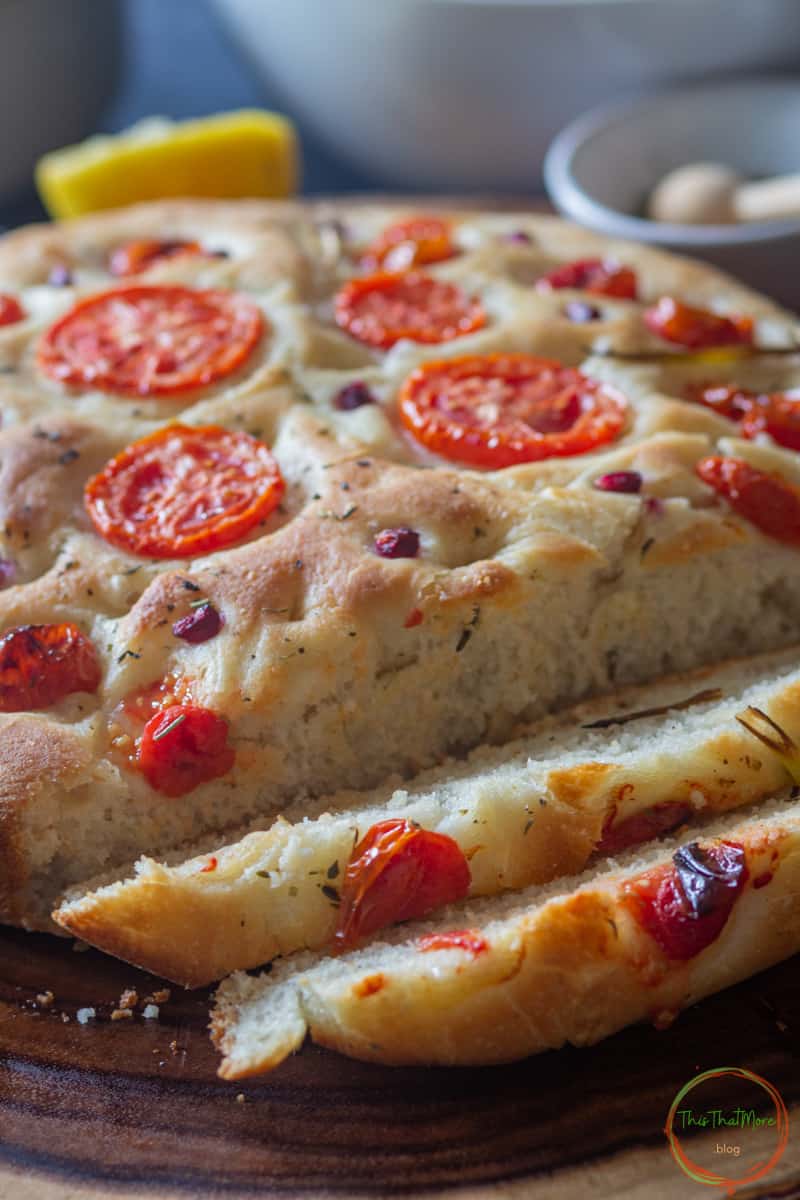 WHY DID I USE INSTANT POT TO POUFF THE BREAD?
Usually, it takes a lot of time to poof bread. If it is a hot day, then dough can be raised easily. But during cold weather, the dough can take longer.
An easy way to raise/poof the dough is to use an Instant Pot. Firstly, with the Instant Pot, you don't need to knead the dough using a stand mixer. Just add all the ingredients in an Instant Pot and lightly knead the dough. Secondly, the dough can be puffed in 30-40 minutes, and hence whole bread can be prepared in less than an hour.
HOW TO BAKE FOCACCIA BREAD
Focaccia Bread should have a crispy crust with a soft interior texture. I use my Cast Iron Skillet to bake the bread, and it gives the bread an overall nice crispy crust.
Cast Iron gets hot really fast, so baking in the skillet gives a nice crust & also saves time. I like cooking in Cast Iron a lot, so I will recommend using a cast-iron skillet for this recipe. But you can also bake the bread in any baking tray too.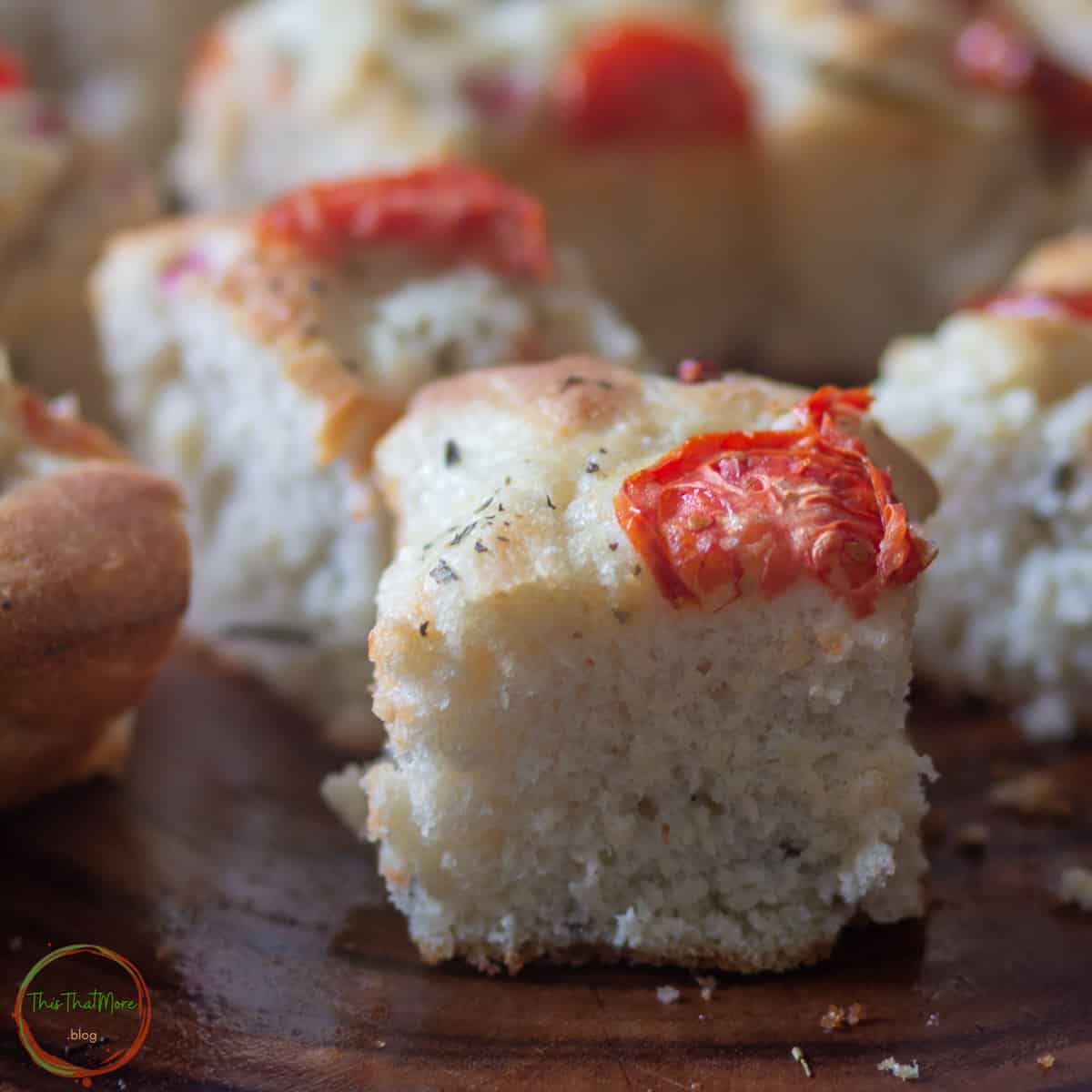 FOCACCIA BREAD INGREDIENTS
FLOUR: You can make with any flour but I like making with bread flour. I have also made it using whole wheat flour and the bread turned out great.
SUGAR: Earlier, sugar was added to make yeast more active. Now we use active yeast. But adding sugar is still recommended.
SALT: A little bit is added to balance the flavor and for taste too.
YEAST: Yeast is added to make bread puff. For making bread, you always need yeast. Sometimes, I also use yogurt in some recipes.
WATER: Always use warm water while making the bread. Adding warm water helps in raising the yeast faster as compared to cold water.
OIL: Oil is added so that nothing sticks at the bottom.
TOPPING: You can add any topping of your choice. You can add oranges, lemons, tomatoes, onions, olives, etc. Lately, people are making many artistic varieties of Focaccia Bread, check it out.
SEASONING: You also add seasoning in the bread like rosemary, lemon pepper, or Italian seasoning, etc.
STEP-BY-STEP INSTRUCTIONS
STEP 1- WARM MILK: Add Milk and Butter to the inner pot of Instant Pot. When the butter starts to melt, cancel saute. Let it sit there for a few minutes until the milk is warm but not hot. Yeast won't work if the milk temperature is hot, it will only work when Milk is warm.
STEP 2 - ADD YEAST: Add yeast and let it sit for a few 5 minutes. After 5 minutes, the yeast and milk mixture will be foamy & bubbly. Then add the rest of the ingredients (Flour, Salt, Sugar, Rosemary or Italian Seasoning, and Salt).
STEP 3 - MIX INGREDIENTS: Mix all the ingredients together, until it starts to form like a dough. You can use a food processor or you can knead it with your hands.
STEP 4: Close the lid and press the Yogurt button and set the timer for 1 hour until the dough rises and doubles in size.
STEP 5 - TRANSFER IN SKILLET - After 1-hour, the dough will be at least double in size. Transfer in the cast iron skillet or a baking tray. Make indentations on the dough using your finger.
STEP 6 - ADD TOPPING: Add topping that you like. You can add sliced lemons, oranges, tomatoes, or anything you feel like. Also, you can also sprinkle some herbs too. Then spread all over on the top and on the edges.
STEP 7 - BAKE: Preheat oven at 400 degrees and let the bread sit for 15-20 minutes. Then bake for 20 minutes until the crust is crispy & a little brown in color.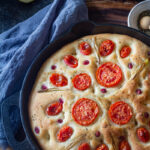 ROSEMARY & JALAPENO FOCACCIA BREAD
Share by Email
Instructions
In a bowl, add warm water & yeast. Let it sit for 5 minutes (or as per instructions). After 5 minutes it will be foamy & bubbly.

Then in a stand mixer add all the dry ingredients including flour, salt, sugar and mix. Then add 1-2 tablespoon of oil and mix lightly. Finally add the yeast & water mixture and start kneading until it forms like a dough.

Add oil in the inner pot of instant pot, insert the prepared dough in the pot and close lid. Using the yogurt setting of instant pot, let dough rest to rise for at least 30-60 minutes .

Or can leave the dough for 2-3 hours at a warm place like in a microwave, or in the oven with lights on. Just make sure the oven is not hot.

Once the dough has risen then lightly oil the cast iron skillet, and add dough in the skillet. Preheat oven at 400°F for at least 15-20 minutes. Meanwhile put dough in a warm place till the oven preheats & cover with a damp cloth.

Once oven had preheated then dip fingers in olive oil, and make dimples all over the dough. This will help in making indentations in the dough, and oil will give nice texture & flavor to the bread.

Top the bread with your favorite topping & seasoning and gently push them in the dough. Then spread some oil on the top and bake for 15-20 minutes at 400°F. Cool it lightly before serving.
Notes
Yeast: Before making the bread, always check the yeast's expiry date. If it is old then yeast won't expand and bread won't turn out the way it should.
Add water as needed, little by little until everything is combined. If required, you can add more flour too. You can adjust water & flour quantity as needed.
Instant Pot: Before adding dough to Instant Pot, spread oil all around the inner pot – otherwise the dough will stick.
This is an easy to make recipe, you can experiment with different toppings.
You can make this recipe using Wheat Flour too.
If you like this recipe, Please

RATE

by clicking the Stars or leave

FEEDBACK

!
Nutrition Facts
ROSEMARY & JALAPENO FOCACCIA BREAD
Amount per Serving
% Daily Value*
* Percent Daily Values are based on a 2000 calorie diet.