Enjoy the simple recipe of Street-Style Singapore Noodles from the comfort of your home. This is made by stir-frying rice noodles, curry powder, sauces, and vegetables.
Noodles are always my quick fix for a busy day meal. Noodles can be easily customized by adding lots of colorful vegetables, sauces of your choice and by using different kinds of noodles like Soba Noodles, Udon Noodles, Rice noodles, etc.
Singapore Noodles is a fusion of Chinese Noodles with Indian flavors. Adding Curry Powder gives a nice touch to the noodles. And because of the addition of curry powder in it, Singapore Noodles is one of my favorites.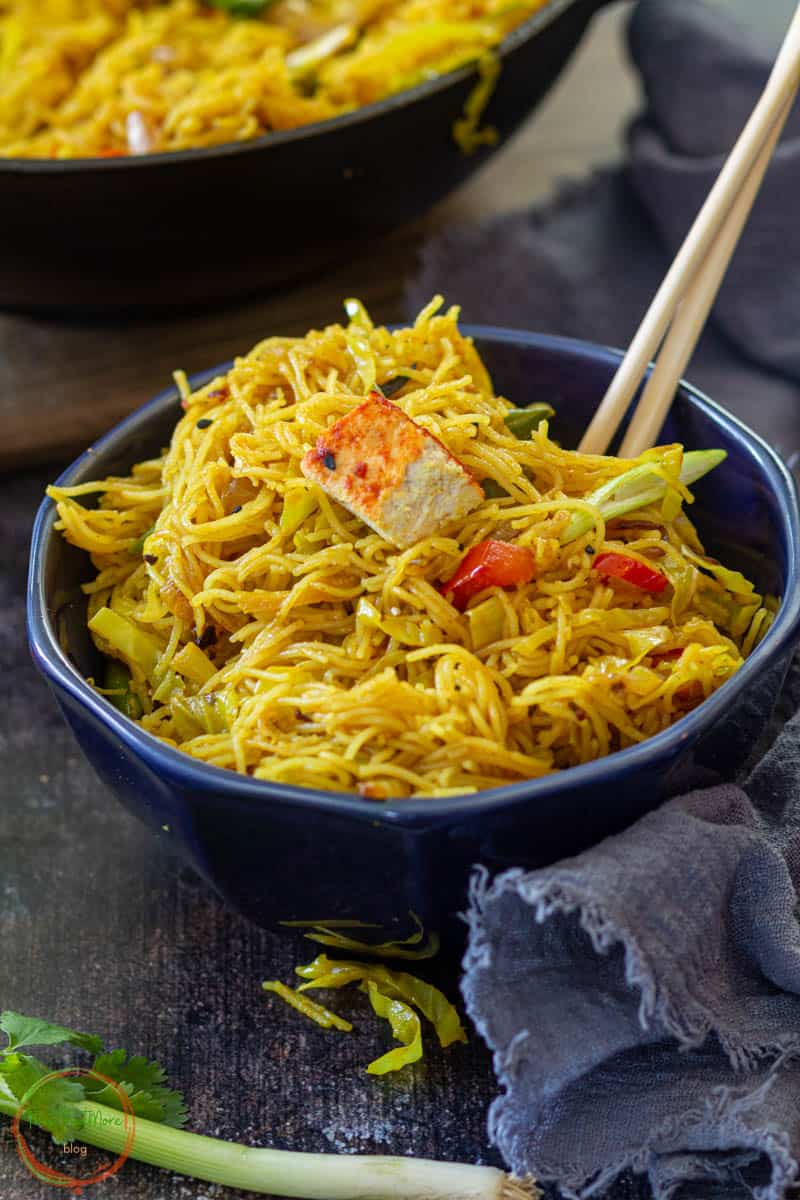 INGREDIENTS FOR SINGAPORE NOODLES
Rice Noodles: When you are going to buy Vermicelli/Rice Noodles, always pick the noodles that have rice listed as an ingredient. Always try to get the noodles that are not more than 1mm thick. Singapore Noodles are thin in size, so make sure you get the thin noodles.
Curry Powder: You can get Curry Powder from the store or can make it at home too. If you want spicy curry powder, then get Madras Curry powder.
Vegetables: You can add any vegetable in the Singapore Noodles. Vegetables give a crunch to the recipe and make the noodles colorful too.
Sauces: You can add sauces based on your spice preference. I like to add Soy Sauce and Sriracha to the noodles.
Tofu: I also add Tofu for protein in the noodles along with some nuts.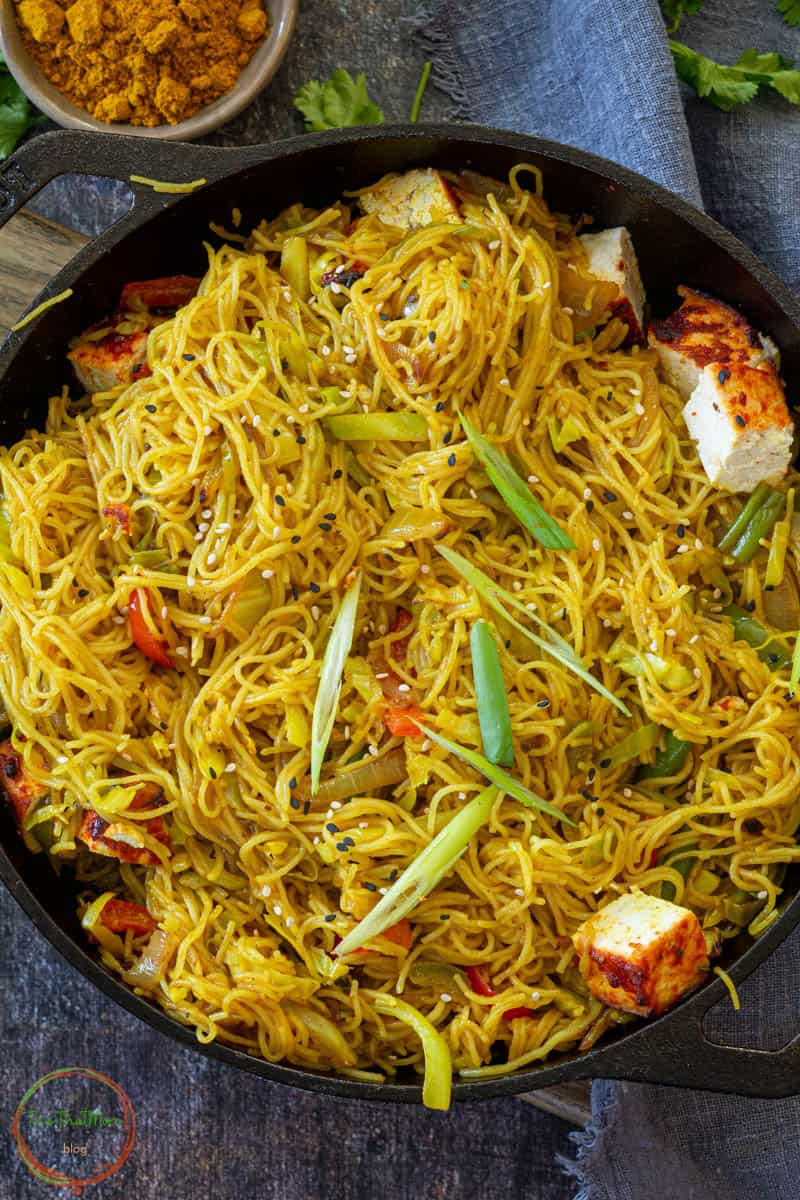 TIPS TO REMEMBER FOR MAKING BEST SINGAPORE NOODLES
Don't overcook the Rice Noodles, otherwise, the dish won't look appetizing. Rice Noodles cook pretty quickly, in around 2-4 minutes. Once water is boiled, I add noodles to boil for 3 minutes so that they are only partially cooked, not fully cooked.

I like vegetables a little crunchy and I don't cook vegetables for too long. Once vegetables turn a little tender, I add sauces & noodles in the wok.

Add Curry Powder at the end before serving. This will make noodles aromatic and flavors will be elevated.

This is a simple noodles recipe that doesn't need a lot of planning. And you can add any vegetables & protein in the dish.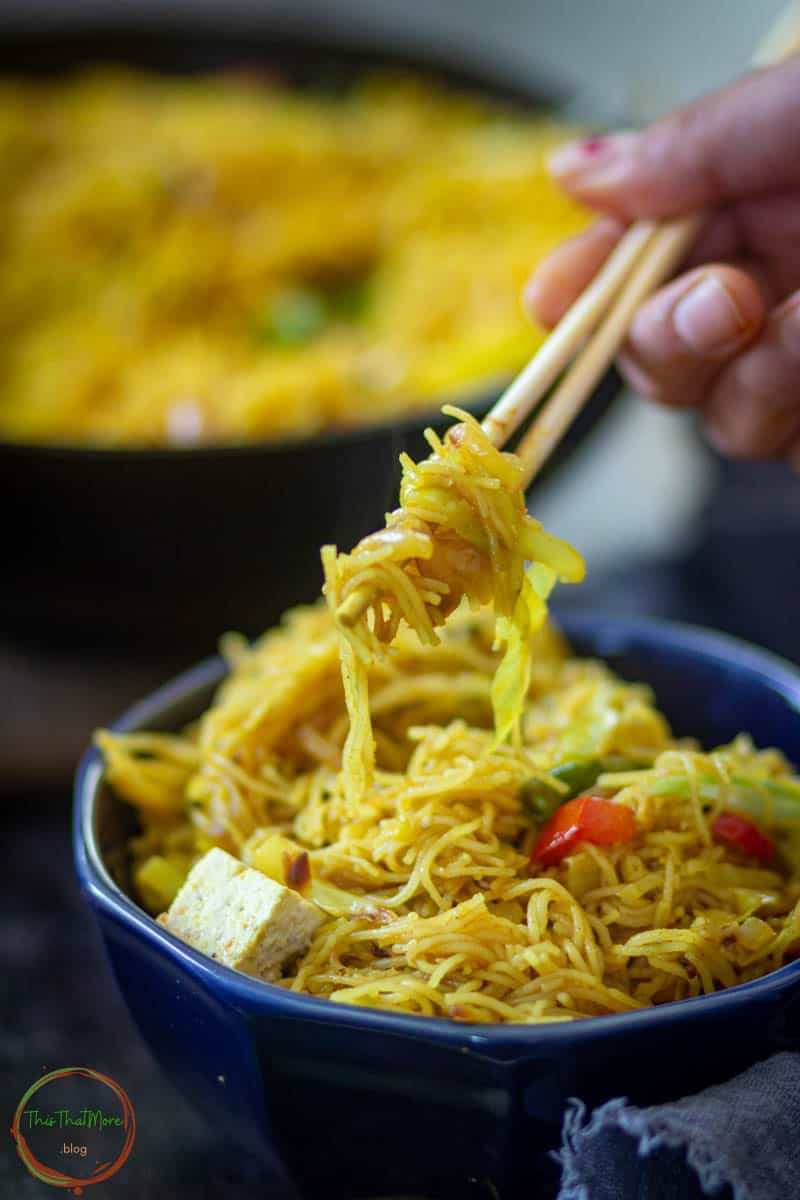 I was a bit skeptical of using Curry Powder in noodles, as curry powder is generally used to make curries. Not many vendors use curry powder while making Singapore noodles. But adding the curry powder does make the difference. Adding curry powder will make the noodles aromatic & also adds a nice flavor.
You can use store-bought curry powder. Or you can make curry powder at home.
I use my Homemade Curry Powder in the recipe. Using store-bought Curry Powder is more convenient, but fresh homemade masala makes a big difference in the taste. Mentioned below are the ingredients for making Curry Powder.
1 tablespoon Cardamom
1 tablespoon Ground Coriander
2 teaspoon Cumin Seeds
1 teaspoon Mustard Seeds
1 teaspoon Cayenne Powder
½ teaspoon Ground Ginger Powder
1 teaspoon Turmeric
½ teaspoon Black Peppercorns
Grind all the ingredients in the spice grinder and blend until powdered.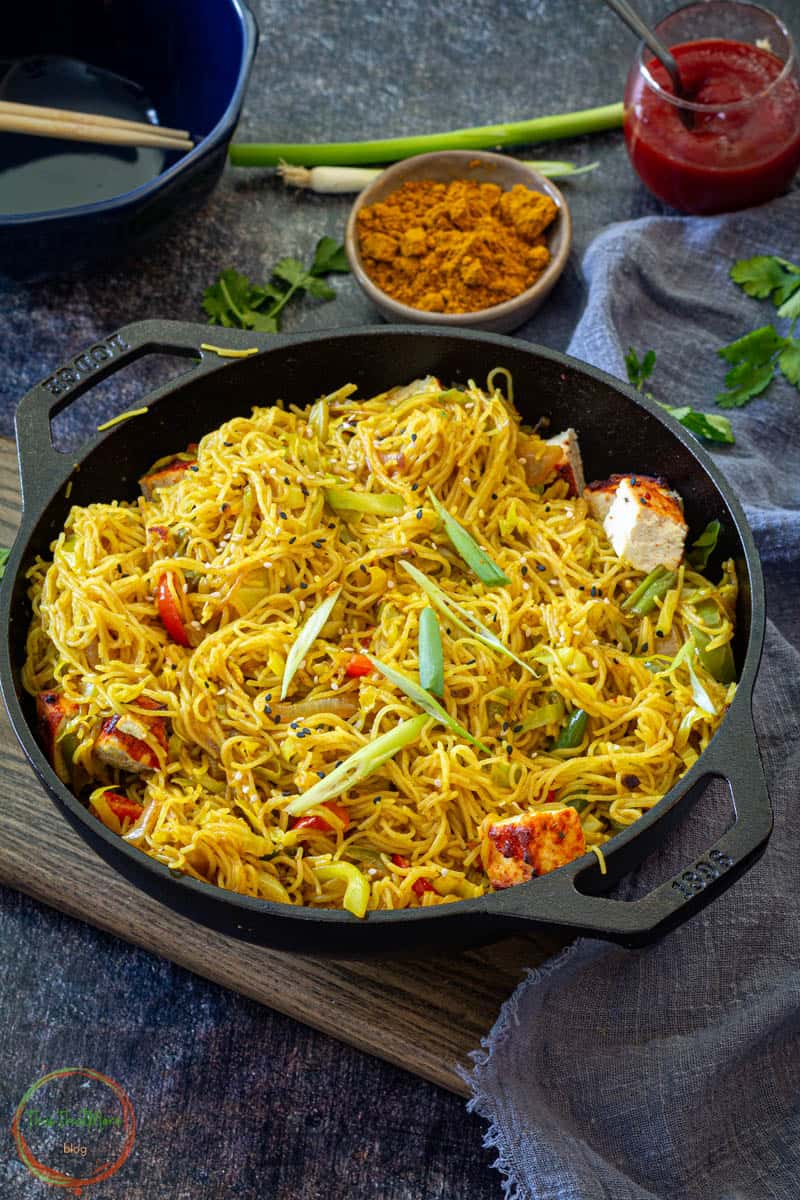 Singapore Noodles
Enjoy the simple recipe of Street- Style Singapore Noodles while sitting at home. This is made by stir-frying rice noodles, curry powder, sauces, and vegetables & is also better than a takeout one.
Share by Email
Instructions
In a stock-pot, add 1-2 QT water for boiling. When water is boiled, add salt & 1 tablespoon of oil and add rice noodles to it. Let the noodles cook and keep stirring for 3 minutes.

(Note: Rice Noodles usually takes 2-4 minutes to cook in the boiling water).

Once noodles are almost cooked, strain in the colander. Run it in the cold water to stop the cooking. Once noodles are cooled down, gently separate them from each other by running your fingers through them.

Add sesame oil and chili oil in the wok and turn on the heat. When the oil is hot, saute onions in the wok. When the onion starts to change color, add the rest of the vegetables.

Once THE vegetable starts to get tender, add all the sauces (red chili paste, soy sauce, and vinegar). Coat the vegetables with the sauces and transfer noodles in the wok.

Using Tong, coat noodles with sauce & vegetables and cook on high-heat for 1-2 minutes and keep stirring. Lastly, add Curry Powder and mix with the noodles until combined properly.

Garnish with some chopped Green Onions and serve immediately.
Notes
You can add any vegetable & protein source like tofu, nuts, etc.
Don't overcook the rice noodle otherwise they will be sticky and won't look so good.
Hope you like Singapore Noodles, please rate the recipe and leave the feedback!
Nutrition Facts
Singapore Noodles
Amount per Serving
% Daily Value*
* Percent Daily Values are based on a 2000 calorie diet.